The HealthRider H70e Elliptical Trainer – a No-Frills Starter Machine
The HealthRider H70e elliptical trainer is a stable machine from Icon Fitness with a sound design, good riding feel, and basic workout programs. But is the no-frills approach enough to compete against brands that are better reviewed, known for performance and reliability, and have decent warranties?
What You Get
At $999, the HealthRider H70e elliptical trainer offers 8 Personal Trainer Workouts and 2 Heart Rate workouts. The advantage of pre-programmed routines is that the machine will automatically adjust the resistance level during the workout to challenge your muscles and keep you in the calorie-burning heart rate zone. The HealthRider H70e's list of specs includes: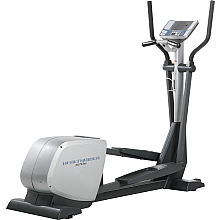 Silent magnetic resistance
Eight workout programs
Upper-body workout arms
18" stride
Rear flywheel
Dual-grip heart rate monitor
Oversized, cushioned pedals
300 lbs max. user weight
Warranty -- 90 days parts and labor
The Word on the Street
UPDATE:  The Healthrider H70e is no longer being sold.  Check out our best buys in the $1000 range here.

Experts point out that there are dozens of ellipticals out there at this price and it's hard to find any reason to pick this model over competitors' machines which offer so much more in terms of warranties, programs, premium speakers, incline ramps, and so on.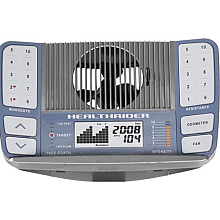 Customers like this machine because it feels solid as a rock. The HealthRider H70e also offers oversized pedals for a smooth quiet ride, an 18" stride length, and upper-body handlebars to tone your arms. While this elliptical trainer is a sound little unit, it's short on bells and whistles, and you come away with the feeling that it is at least $200 over-priced.
Our Thoughts on the H70e Trainer
We recommend the HealthRider H70e with a few reservations. If it isn't to be your primary cardio exercise machine, that is, if you are looking for a starter machine to add to your home gym that already has a stationary bike or treadmill, and free weights, then this elliptical model will be just fine.
Budget trainers are not designed to be used heavily; they stand up fine when used a couple of hours a week, but are not for those fitness nuts who will be pounding on a machine 60 minutes every day.
In head-to-head comparisons, though, we would still choose the Sole E25, with its 20" stride and patented 2% inclined pedals, over the HealthRider H70e elliptical trainer. It's also selling for under $1000.
Show me other Healthrider Elliptical Trainers