The Image 8.25 Elliptical Trainer - Rated AVOID
If you've never heard of the Image 8.25 elliptical trainer then you're in good company with everyone else riding the planet. It's a new line from Icon Fitness, the same folks who manufacturer other ellipticals such as the NordicTrack, Proform, Reebok and Weslo. They have a long way to go before they get a respectable "Image" on the market.
What You Get
The Image 8.25 elliptical trainer has an MSRP of $399 but generally sells for less than $250. It offers a MyTracks™ Step Counter, oversized pedals, heart rate control and monitor, and some nice weight loss programs. Other features of the Image 8.25 include: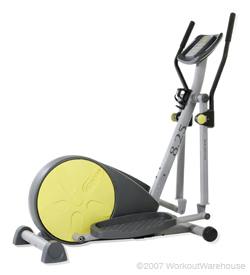 18" stride length
Programs include 2 personal trainer workouts
Heart rate monitor
Heart rate control
Silent magnetic resistance
Upper body handlebars
250-lb. user capacity
90 day warranty: parts, motor, frame and labor
The Word on the Street
Experts will note the Image 8.25 elliptical trainer has one major fault: it's an Icon product. Customer service is not good for these mass produced machines which are largely sold in box stores but now also online, and users have been returning them at an alarming rate. And not for a quark or two that users just don't like; there are too many complaints of breakage, especially on the frame itself, and that's a buzz kill for this machine.
UPDATE:  It looks like Image may be out of business.  We can no longer find them for sale anywhere.  Check out the other ICON brands for similar ellipticals to choose from.

This rear flywheel Image 8.25 elliptical comes off as a bit wobbly for many users, but otherwise people like the trainer's roomy stride length, the cool step counter, and the programs. The handlebar design is a big problem as the large knobs that tighten the arms work loose quickly and cause the arms to slide out of place.
The Image 8.25 is a cheapo product that might work well for small adults, or seniors who aren't going to put a lot of strain on it, but most users who want a sturdy machine to ride will be unhappy with this one.
Our Thoughts
The Image 8.25 is hands-down one of the ugliest elliptical trainers you've ever seen. Beyond being an eyesore, the ergonomics never feel right as the forward lean on the handlebars is uncomfortable and drive users nuts.
And let's take a moment to mention that the warranty is zip! Which means Icon Fitness figures it's going to break within a year and they don't want to deal with the problems. Don't make the Image 8.25 elliptical trainer your problem; it rates an AVOID.
That being said, don't be discouraged as there are good quality ellipticals to be had for under $500. Read a couple of reviews on the Eclipse 1100HRA and see what we mean.
Show me other Image Elliptical Machines