Image Elliptical Machines - A Great Choice for the Average Exerciser
Image Elliptical Reviews
You won't see a great number of Image Elliptical Machines reviewed on the Internet because this is a less well known cousin to the NordicTrack and Reebok lines. In fact, the same parent company, ICON Fitness, manufactures all three lines of elliptical trainers as well as several others.
The Image brand of elliptical machines is one of the more recent additions to this company's various lines of fitness equipment and are designed to appeal to the consumer who would like something as well-known and high end as a NordicTrack or Reebok, but at a more reasonable price.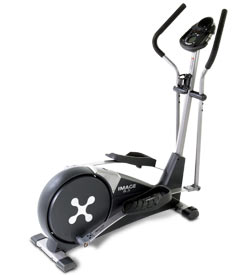 In Good Company
There is a long history at ICON of producing quality products, and Image Elliptical machines are the company's latest foray into the marketplace. Part of the advantage to buying from a manufacturer with such a large company presence behind them is that you are getting the trickle-down benefits of literally millions of dollars spent every year on research and development.
UPDATE:  It looks like Image may be out of business.  We can no longer find them for sale anywhere.  Check out the other ICON brands for similar ellipticals to choose from.
While a great deal of this is specifically focused on their more expensive products, the Image line naturally benefits from the new technologies developed since the same company is producing all of them.
What the Professionals Say
Most trainers will tell you that Image elliptical machines are strictly for at-home use. These aren't the models to invest in if you're training for a marathon or are a serious "road warrior," but they do perform well for the average exerciser. They include nice features like a very reliable heart rate monitor and don't take up too much space in your home.
User Reviews
Consumer Reviews are limited simply because the brand is just now getting recognition as a less expensive alternative to other brands, but some of those that have expressed an opinion are satisfied, especially because of the price tag.
Our Advice
One problem is finding an Image elliptical trainer – most stores don't carry them yet. We checked Consumer Reports, and they haven't yet reviewed Image ellipticals, so do read the information and consumer reviews thoroughly to make a sound decision. The company has a reputation for a safe product, but this particular line of elliptical cross trainers is a relative unknown on the market at this time.
Click here to write your own review!
Model Reviews
The Image 7.8 Elliptical Trainer - Not Recommended - an entry-level machine that sells for around $299.
The Image 8.25 Elliptical Trainer - Rated AVOID - Hands-down one of the ugliest elliptical trainers you've ever seen.
The Image 8.5 – Serious Features for Less Than $500 - Developed with an eye toward people who want some serious features, but don't need a whole lot of range.
The Image 9.5 Elliptical Trainer – Not Built for Serious Workouts - A basic machine built for the casual user; too lightweight and flimsy for serious workouts.
---