The Image 8.5 Elliptical Home Trainer – Serious Features for Less Than $500
Another one of ICON Fitness's entries into the budget market is the Image 8.5 elliptical home trainer. Image trainers appeal to consumers who are looking for a more serious style of elliptical machine but can't afford anything above the $500 price range. This is an elliptical trainer that has been developed with an eye toward people who want some serious features, but don't need a whole lot of range.
What You Get
The features of the Image 8.5 elliptical home trainer include: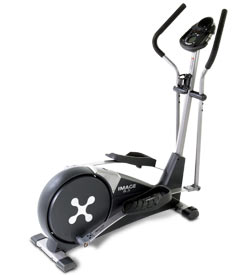 Upper body workout
6 separate programs
LCD display consol
Silent Magnetic Resistance
Shock absorbing system for smooth glide
17.5" stride
Adjustable foot pedals
Arced, flexible rails for comfort
Pulse monitor
iFit Technology
90 day warranty
The Word on the Street
Some of the design features in the Image 8.5 home trainer are unique to the Image label and give an excellent feel. Trainers are very keen on the flexible, arced elliptical rails. These absorb shock more efficiently and so provide greater cushioning to your joints than most others in this or even higher price ranges.
The foot pedals adjust to five different positions, making the Image 8.5 model a good choice if different people will be using it. Some trainers, however, say that this isn't a sturdy enough machine. They don't feel it stands up well to regular use.
They also question why the manufacturer added some great features, but shorted buyers on the programs, with only six programmed in. Other elliptical trainers in this price range offer up to ten or twelve.
UPDATE:  It looks like Image may be out of business.  We can no longer find them for sale anywhere.  Check out the other ICON brands for similar ellipticals to choose from.

People who purchase the Image 8.5 elliptical home trainer enjoy the opportunity to take advantage of the iFit programs, a feature usually reserved for pricier machines. They also like the extreme comfort of the arcing rails and adjustable foot pedals, which they feel gives it an almost "custom" feel.
There is one frequent complaint, and that is that this machine tends to develop problems quickly. Repairs are often needed, and the 90 day warranty doesn't cover you for long.
Our Thoughts
Added features like the iFit technology and curved rails are a real advantage for the price on this model. On the other hand, the general consensus is that you should definitely purchase an additional warranty.
If you like it – and you probably will – it's going to quickly deteriorate from use. Bottom line – it's got bang for the buck in the short term, but the Image 8.5 elliptical home trainer should have been constructed better with more staying power.
Show me other Image Elliptical Machines