The Image 9.5 Elliptical Trainer – Not Built for Serious Workouts
The Image 9.5 elliptical trainer is backed by ICON Fitness, one of the major players in home elliptical manufacturing. That being said, the Image line – and the 9.5 in particular – is at the lower end of the ICON spectrum. This is an inexpensive machine designed and built for the casual user, not a serious athlete.
What You Get
The Image 9.5 elliptical trainer is a reasonable model if you want to try out an inexpensive elliptical machine for the first time. At under $500, you will get a reasonably steady machine and a decent workout. The rear fly wheel and oversized foot pedals are nice, but the stride length is a bit short for some people. In fact, anyone over 6' will feel like the stride is lacking.
You'll get most of the standard console features, like a pulse monitor and fan, but not a lot of other bells and whistles. The Image 9.5 is a basic elliptical, but the iFit interactive training feature makes workouts more enjoyable. If you get bored easily, the iFit feature can give you variety.
The Image 9.5 elliptical machine specs: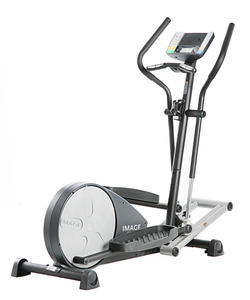 17.5" stride length
Silent Magnetic Resistance
10 Pre-set programs
3 level, manual adjustable incline
iFit Interactive Training
Water bottle holder
Contact heart rate grips
Rear flywheel
250 lb. user capacity
Workout fan
90 day warranty


UPDATE:  It looks like Image may be out of business.  We can no longer find them for sale anywhere.  Check out the other ICON brands for similar ellipticals to choose from.

The Word on the Street
The pros don't like this machine. They will tell you it isn't sturdy and is just too lightweight and flimsy for serious workouts. It is, in their minds, a disposable machine.
Although there aren't a lot of elliptical reviews for the Image 9.5 elliptical trainer we did find a few comments from users. A few people mentioned that they love getting a good workout for a cheap price, and others said the workouts were challenging. These people generally owned their Image 9.5 elliptical for less than three months.
After about three months of ownership, a disturbing trend is obvious. The machine becomes increasingly noisy, with banging and squeaking two common complaints. More than half of users say the Image 9.5 breaks within a year of purchase.
Our Thoughts
Will you hop on your Image 9.5 elliptical a few nights a week for a quick workout without pushing yourself too much? Then this might work for you, particularly if you're looking to save some money. Otherwise, the steadily increasing noise level and wobbly performance over time will kill the value of the Image 9.5.
If you want a serious workout, skip this model. Even with the target toning setting and iFit training, you'll be disappointed. The options are there, but the quality isn't.
Features are only valuable if the machine is sturdy enough for you to use them. Buying a new machine every year simply isn't worth the price, and the short warranty indicates ICON Fitness is well aware of the Image 9.5 elliptical trainer's shortcomings.
Show me other Image Elliptical Machines