The Ironman 1840 Elliptical Trainer – Good Value for Under $800
The new Ironman 1840 elliptical trainer has added a heavy gauge steel frame and chromed wheel track system for better stability and comfort. This is an upgraded version for 2010.


What You Get
The large blue and yellow backlit LCD window on the console shows profile, speed, time, distance, calories, watts, pulse, and resistance level. The Ironman 1840 elliptical trainer's 20 pre-set programs include 4 heart rate control workouts, and the unit comes with a wireless chest strap to communicate your HR to the console which automatically changes resistance based on the control program.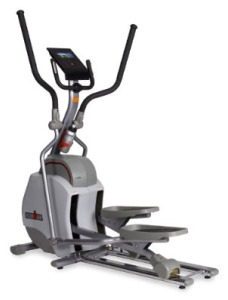 The specs on the Ironman 1840 include:
18" Stride Length
20 Programs
16 Resistance Levels
Contact Heart Rate Sensors
Wireless Chest Strap
Upper Body Handlebars
Front Drive
Unit wt/dimensions: 138.9 lbs/ 63 x 29 x 66 in
Front Transport Wheels
AC plug-in adapter
300-lb. User Capacity
Warranty: 5 yrs frame, 2 yrs mechanical & electronics, 1 year labor
UPDATE: The Ironman 1840 has been discontinued and is no longer available.  The H-Class 610 and X-Class 610 are the only remaining ellipticals.  You can learn more about them here:
Compare Popular Ironman Ellipticals On Sale at Amazon
The Word on the Street
There are a number of good features on the Ironman 1840 elliptical trainer including the chromed wheel track system for minimal friction, padded foot pedals for better comfort, a wireless chest strap for heart rate monitoring, a big 18" stride length, and better parts and labor warranty coverage.
Star Trac, the best manufacturer of commercial health club ellipticals in the world, bought Ironman from Keys which went bankrupt. They've started a makeover for Ironman, and the new and improved Ironman 1840 seems to have benefited from the new ownership.
There's no word yet if the wireless HR monitor is accurate enough to brag about, but it's a nice feature to see in a unit at this price level. The only drawbacks are that it is a light elliptical trainer at 140 pounds, and is meant for light use by light users, which means you should forget about that stated 300-pound user weight capacity.
The Ironman 1840 has a decent ergonomic feel, nice body positioning in relation to the moving handlebars, and solid construction (for a light user!). It should be reliable for a few years.
Our Thoughts
Ironman elliptical reviews can be difficult to do since they frequently sell at huge discounted prices – and when that happens it obviously increases the value-to-price ratio significantly.
When the Ironman 1840 sells for its MSRP of $999, we give it a good but only average score, and suggest that you can do a lot better by spending a few dollars more and getting a Spirit EL-3 or perhaps a Sole E35.
We wouldn't recommend you pay more than $799 for the Ironman 1840 elliptical trainer, but it is a good value at that price.
Show me other Ironman Elliptical Trainers