The Ironman Harmony Elliptical Trainer with Patented Center-Drive
The Ironman Harmony elliptical trainer is a center-drive machine that provides stability and comfort for individuals who feels slightly awkward or out of balance using a front or rear drive design.
What You Get
The Ironman Harmony elliptical trainer has a large blue/yellow 20 x 16 LCD window that shows workout stats including speed, time, distance, calories, and pulse. There is a pulse recovery program to determine your fitness level after your workout is completed.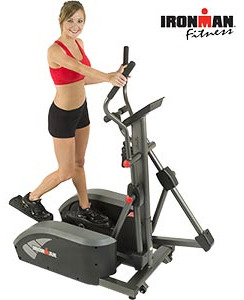 The specs on the Ironman Harmony include:
21" Stride Length
15 Programs
16 Resistance Levels
Contact Heart Rate Sensors
Upper Body Handlebars
Center Drive
Narrow Pedal Spacing
Unit wt/dimensions: 180 lbs/ 47 x 30 x 68 in
Front Transport Wheels
AC plug-in adapter
300-lb. User Capacity
Warranty: lifetime frame & motor, 1 year parts & labor
UPDATE: The Ironman Harmony has been discontinued and is no longer available.  The H-Class 610 and X-Class 610 are the only remaining ellipticals.  You can learn more about them here:
Compare Popular Ironman Ellipticals at Amazon
The Word on the Street
Thanks to its 180-pound base, the stability and comfort of this machine is above average. Some of the better features on the Ironman Harmony elliptical trainer are the belt-drive technology featuring friction-free magnetic resistance, the quiet operation, comfortable narrow pedal spacing, and the patented center-drive system to provide a more natural upright body position during the workout.
Elliptical reviews on this one are fairly positive despite the fact that this is a mid-priced machine that has no wireless heart rate chest strap, no fan, and only a one-year warranty on parts.
Overall, the Ironman Harmony is a sturdy elliptical trainer with a smooth motion, and the 21" stride length and 300-lb user capacity should be enough to accommodate large users.
The smooth elliptical motion is perfect for people with bad knees who can't work out on a treadmill. The one drawback to point out would be that this unit might not fit a small person comfortably because of the stride length.
Our Thoughts
The elliptical reviews by consumers have been running from satisfied to impressive — with the higher praise coming from those who got a deal on the price.
The Ironman Harmony has an MSRP of $1,999, but we've seen it on sale for $1,399 or less at Amazon and from several other online sellers. Are we sold on this elliptical trainer? Well, not quite. It's a decent model but it lacks real appeal: the console is boring and the fixed stride length may be a deal-breaker for a multi-user household.
Since the competition at this price range is fierce, we recommend you look at other outstanding ellipticals which rate higher in terms of reliability, warranty, and quality components, and offer more advanced programming and readouts on the console.
Compare the center-drive Ironman Harmony elliptical trainer to the Spirit EL-3, the new Smooth CE 3.6, or the Sole E55, all with articulating pedals, better warranties, and much more.
Show me other Ironman Elliptical Trainers