The Kettler CTR3 Elliptical Trainer – Quality Machine for Small Users
Like any well-engineered machine, the Kettler CTR3 elliptical trainer offers smooth gliding workout for serious fitness purists. If you prize quality and performance over a glut of excessive and unnecessary programs, this model may appeal to you.
What You Get
The Kettler CTR3 elliptical trainer comes with a Siemens® electronic LCD high resolution display that shows total distance, time, RPMs, calories burned, pulse, and upper pulse limit. Its various workout programs include 6 adjustable hill profiles, 2 manual mode options and 2 heart rate controlled programs.
The rest of the features on the Kettler CTR3 include: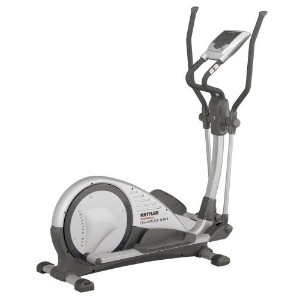 15 Resistance Levels (400 Watts)
16" Stride Length
8 Programs
USB interface
Hand Pulse Sensors
50 lb Flywheel Drive System
Maximum Weight Limit: 330 lbs
Adjustable Foot Plates
Floor-Leveler for Uneven Floors, Transport Casters
Dimensions/weight — 57"L x 21"W x 60"H"/182 lbs
Warranty — Lifetime frame, 3 yrs parts & elec., 1 yr labor
UPDATE:  The Vito CTR3 is no longer being sold, replaced by all new and improved models.  You can get great deals on all of them here:
Check Out The New Kettler Ellipticals On Sale Here
The Word on the Street
Though the quality of Kettler products is well known in Europe, the company's machines are not usually found in health clubs in the U.S. The German company hopes to change that by introducing high quality, high value elliptical trainers.
With its 50-lb drive system, the Kettler CTR3 offers a smooth, fluid, and natural glide with minimal impact on the joints in the hips and knees. The Q-factor (spacing between pedals) is 7".
The Kettler® Induktions Brake System offers 25-400 watts of electromagnetic resistance range with 15 resistance levels. It comes with 8 well-designed programs, and you can use the USB interface to download exchangeable programs from KettlerUSA.com.
Even with the Kettler® eSYS System™ that allows for ergonomic and biomechanical adjustments for the best possible "fit," the 16" stride may be too short for users who are 6'0" and taller.
Other than that, the Kettler CTR3 is a favorite among elliptical reviews that note that they love their Kettler machines and continue to get years of use out of them without major mechanical issues.
Our Thoughts
The Kettler CTR3 is a good looking, mid-range elliptical trainer with the engineering and design specs you have been looking for. The display isn't fancy, but the electronics behind it give you everything you need.
It has a short stride length for a model at this price but smaller users will find it a perfect fit. While the Kettler CTR3 elliptical trainer is a decent buy, if you can do without the USB interface and go with a slightly lighter drive system, save $500 and get the Kettler Mondeo model instead.