The Kettler Syncross V2 Commercial Elliptical – Smooth, Quiet Ride
The Kettler Syncross V2 commercial elliptical is an outstanding home fitness machine with a motorized incline/decline slope adjustment to simulate any type of terrain. It also offers the quietest, smoothest glide you may ever experience.
What You Get
The high-resolution blue backlit Siemens® electronic VGA LCD display gives readouts for course profiles, time, distance, odometer, speed, calorie burn, and more. The Kettler Syncross V2 commercial elliptical features 32 programs with card reading/storage technology, plus the Kettler Ergo-Concept interactive training software interface.
The features include: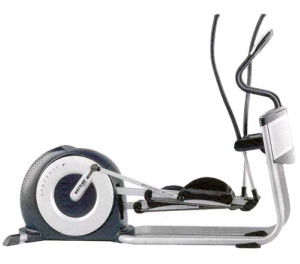 14"-22" Adjustable Stride Length
32 Programs
116 Resistance Levels (25-600 watts)
Electro-magnetic Eddy Current Brake
20 Incline/Decline Settings (+10/-10)
USB interface for program downloads
Wireless Polar® T34 Heart Rate Transmitter
Contact Hand Pulse Sensors
55-lb Drive System
2" Width Spacing
Unit wt/dimensions: 350 lbs/ 95" x 25" x 69"
Floor-Levelers, Transport Casters
400-lb. User Capacity
Warranty: lifetime frame, 2 years parts & labor
The Word on the Street
UPDATE: As of 2021 it looks like Kettler is no longer making ellipticals. They used to have at least half a dozen models available for sale on the company website but now there is only one, the RIVO 4, and it's out of stock.
Check out our Best Ellipticals page to find a comparable model in your price range.
---------
Designed with the best of German engineering, the Kettler Syncross V2 commercial is a solid elliptical trainer based on an ergonomically formed tube frame, with floor levelers and transport wheels.
The heavy drive system and sealed ball bearing joints offer an impact-free glide system that is virtually silent and incredibly smooth. The manual or programmable 25-600 watt settings (in 5-watt increments) provides up to 116 levels of resistance from the friction-less brake system.
The Dynamic Power System™ is a motorized slope adjustment with incline/decline settings to give the user challenging terrain modes during workouts.
The Kettler Syncross V2 commercial elliptical features the Kettler eSYS™ System which provides for perfect ergonomic, biomechanical, and electronic adjustments to each user. Another cool feature is that you can download interactive software and programs from their website Kettler USA.
The swing arms are also ergonomically correct for working out the upper body, and the narrow pedal spacing, 400-lb weight capacity, and adjustable 14"-22" stride length makes the Kettler Syncross V2 the perfect solution for everyone in the household.
Elliptical reviews by users and industry experts are blown away by the quality built into this unit. The only small issue is that while the buttons on the console are elegant and simplistic, they are less user-friendly; you will need the manual to figure out how to key in the program and resistance you want.
Our Thoughts
The $2,699 Kettler Syncross V2 is one of the best-engineered, best-designed ellipticals on the market. The attention to detail, from the programming to the aesthetic profile is striking.
While almost $2,700 is a lot to pay for an elliptical, this residential model performs every inch like the commercial design it is based on. The Kettler Syncross V2 commercial elliptical rates a Good Buy.
Show me other Kettler Elliptical Trainers