The Kettler Vito XL Elliptical Crosstrainer – Consumers Like the Good Looks
The Kettler Vito XL elliptical crosstrainer has been receiving quite a bit of buzz lately. The Vito XL is by far the most popular model manufactured by Kettler. This elliptical machine retails for around $1,200 at Net2Fitness.
What You Get
The Kettler Vito XL elliptical crosstrainer is a club quality machine that will give you a total aerobic body workout. Features include: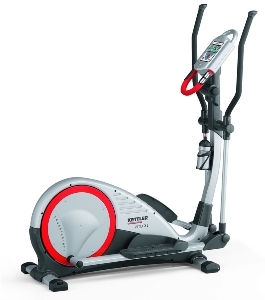 LCD display console
Magnetic resistance braking system
Reverse motion
Upper body workout
Rear height adjustment
16" stride
Pulse grip or ear clip heart monitor
Variable, knob-adjusted resistance
Rear flywheel
Variable angle foot plate
Recovery pulse monitoring
Warranty: Lifetime frame, 3 yrs. parts, 1 yr. labor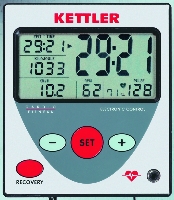 German engineering is behind the Kettler Vito XL crosstrainer, so what you do get is precision engineered. Kettler makes elliptical machines that are built with high-quality components and warranty problems, while few and far between, are generally handled quickly.
The Word on the Street
UPDATE: As of 2021 it looks like Kettler is no longer making ellipticals. They used to have at least half a dozen models available for sale on the company website but now there is only one, the RIVO 4, and it's out of stock.
Check out our Best Ellipticals page to find a comparable model in your price range.
---------
The Kettler Vito XL doesn't get much press from fitness pros, probably because it is German built. Endorsing a Made-in-U.S.A. brand tends to be much more likely, and they are more familiar with them anyway. After all, you don't see many Kettler ellipticals in fitness clubs. Which is really a shame, because they're nice crosstrainers.
Individuals who have invested in a Kettler Vito XL crosstrainer are very attached to them. Some reasons are relatively surface-oriented – they simply like the looks of these ellipticals. It's hard to argue with them, since these are gorgeous machines. Sleek, modern and colorful in silver and black with a few red accents – they fairly scream "style."
The one complaint – calories aren't monitored and displayed, kilojoules are. If you're calorie-counting and want to know what you're burning, you'll have to go through a conversion formula at the end of every workout on your Kettler Vito XL crosstrainer elliptical.
Our Thoughts
A decent 16" stride, modern good looks, a respectable warranty and some nice extras – these German elliptical crosstrainers should be garnering more popularity in the future. The feature we liked?
Every Kettler Vito XL includes a recovery pulse feature that tracks how much your cardiovascular conditioning is improving over time. Why hasn't anyone else come up with something like this? After all, it's why we do cardio in the first place, isn't it?
These won't ever compete with Precors – they aren't as substantial and they aren't as quiet.
But for around $1,200, the Kettler Vito XL elliptical crosstrainer will give you a very good workout and should last you several years. It doesn't hurt that it's nice to look at, too (after all, great looks never hurt a good personality!).
Show me other Kettler Elliptical Trainers