The Lifecore LC-CD500 Elliptical with Manual Adjustable Stride
The award-winning Lifecore LC-CD500 elliptical is the best of class from Lifecore's center-drive machines. With its adjustable stride, you can choose a comfortable length that matches your height and it is easily changed to accommodate your spouse's height as well.
What You Get
The Lifecore LC-CD500 elliptical has a console featuring a 10x14 Dot Matrix LED scrolling message window that shows workout stats. The workout programs include Manual, Random, Hill, Glute Blaster, Interval, and 5 Heart Rate programs (HR hill, HR interval, Target, Cardio 80%, and Fat Burn 65%).
The full specs are:
17" - 25" Manual Adj. Stride
20 Resistance Levels
12 programs / 2 user profile
Contact heart rate sensors
Polar® telemetry (wireless chest strap) included
Oversized cushioned pedals
Dual-action arm handles
300-lb. user weight capacity
Front Transport Wheels
Built-in reading rack
Unit wt/dimensions: 262 lbs/ 42" x 31" x 64" (LxWxH)
Warranties – 5 years parts, 1-year labor
The Word on the Street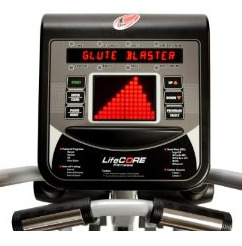 UPDATE: As of 2016, or perhaps earlier, it appears that Lifecore Fitness is no longer making elliptical machines, choosing to focus on their exercise bikes and rowing machines instead.  
Check out our best picks in the $1000-2000 range and the $2000-$3000 range for comparable models.
The Lifecore LC-CD500 elliptical is solidly built with a compact footprint. The unique center drive design and close 2" pedal stance keeps your body upright, not leaning back or forward, for a natural and comfortable stance.

The cushioned footpads help to relieve fatigue on your feet, a problem that is often overlooked when shopping for an elliptical trainer you will spend hours on. The LC-CD500 model offers a stride length from 17" to 25", or any length in between, to allow for the best stride length for your body type.
The positive reviews by consumers on the LC-CD500 reflect what equipment pros say: this is the best of Lifecore's C-drive elliptical trainers in terms of value-to-price considerations, as well as adjustability and ergonomics.
It has a variety of pre-programmed and customizable workouts, but it really emphasizes the heart rate programs. Using a wireless chest strap included as standard equipment, you can focus on training in your Target HR Zone in manual mode, or try out the HR programs including hills, intervals, and 80% cardio.

Our Thoughts
You will love the Lifecore LC-CD500 and will look forward to daily workouts. It has the variety, intensity, resistance, smooth quiet operation, and adjustability to keep you coming back for more.
At $2,199, it costs nearly 1/3 less than the CD700, Lifecore's high-end adjustable stride model.
When you consider comfort, value, warranty, and solid design, you can see why the Lifecore LC-CD500 elliptical was awarded a Best Buy by Consumers Digest Magazine in the February 2010 issue.
Show me other Lifecore Elliptical Trainers