Lifecore Elliptical Trainers - Nicely Affordable Compact Units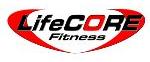 Lifecore elliptical trainers are the brainchild of the Vista, California, company that began as a fitness retail store in the early 1990s. With that kind of background, Lifecore Fitness comes to the game with a strong emphasis on customer service and the desire to give the consumer the kind of quality fitness equipment that reflects their motto: We Fit Your Life!

In addition to elliptical trainers, Lifecore makes highly rated treadmills, recumbent bikes, rowing machines, weight benches, and adjustable dumbbell sets. Lifecore equipment is sold by over 250 specialty retailers in North America, as well as online.
Expanded Line of Ellipticals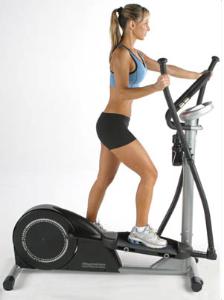 Lifecore Fitness is carving out its own niche in this very crowded and competitive field by offering a line of well-engineered cross trainers. They make budget rear-drive ellipticals, several front-drive commercial class models, and two innovative center-drive models.
There are three compact designs of Lifecore elliptical trainers, including the "Best Buy" rated Lifecore 985VG. The company's gorgeous front-drive models (the LC3000, LC4000, and LC5000) are heavy-duty machines with a nice 21" stride. Lastly, their standout C-Drive machines (the CD400 and CD500) offer a compact 42" footprint and an ergonomic design that positions the user's body perfectly upright throughout the striding motion.
UPDATE: As of 2016, or perhaps earlier, it appears that Lifecore Fitness is no longer making elliptical machines, choosing to focus on their exercise bikes and rowing machines instead.
You can still find a few models for sale on Amazon, but you'd probably be better off with another brand such as Life Fitness or TRUE in the same price category.  Choose your price range on the right side to see our top picks.
Good Quality in a No-Frills Package
Lifecore makes solid elliptical trainers with few of the fussy bells-and-whistles found on competitor models. They are built with high quality components on the inside that you won't see (such as sealed bearings in the pivot points instead of bushings), and a rugged, club-quality look and presentation on the outside to admire every time you approach the machine.
Consumer Reviews
What's unique about Lifecore is how well they understand issues and concerns of home ellipticals. They know customers don't want an overly complex machine that requires in-home service calls by a technician. As a result, they have designed machines that are easy for the consumer to adjust and maintain. In addition, dealers are happy to sell Lifecore elliptical trainers because they are hassle-free: no service calls.
Not only are customers reporting in elliptical reviews that they are pleased with the easy half-hour initial assembly, they say that any issues were addressed by a Lifecore customer service representative in record time. Any squeak or noise "under the hood" that needed to be attended to was a snap to fix — even for people who aren't handy with a screwdriver.
What We Say About Lifecore Ellipticals
In the midst of a recession and with other makers of elliptical trainers cutting back, Lifecore has expanded their lineup of machines. With that kind of confidence, you quickly realize that Lifecore is gaining the respect and trust of consumers the old-fashioned way: they earn it with each machine. We especially like the front-drive machines, which are some of the most affordable, light-commercial designs we've seen this year. For overall value, and superior customer service, Lifecore elliptical trainers are a Good Deal.
Click here to write your own review!
Model Reviews
Lifecore VST-V4 - The key feature of the VST-V4 is its long 24" stride length which is ideal for taller users who want to lift their workout to a higher level.
Lifecore VST-V6 - The Lifecore VST-V6 with variable stride length gives you the means to walk, step, or jog all on the same machine; delivers a fluid workout you can look forward to every day.
Lifecore VST-V8 - A hybrid suspension trainer with on-the-go stride length adjustment. Use as a stair stepper or simulate running and power walking.
Lifecore LC-CD400 - Best-built and most affordable Center Drive model on the market. High marks for comfort, durability, low noise, ergonomics, and a generous 5-year parts warranty.
Lifecore LC-CD450 - The new, updated model is the best performance center-drive elliptical at the most affordable price on the market today.
Lifecore LC-CD500 - This manual adjustable stride elliptical trainer is one of the best of Lifecore C-drives in terms of value-to-price considerations, adjustability and ergonomics. Awarded 'Best Buy' by Consumers Digest Magazine in the Feb. 2010 issue.
Lifecore LC-CD600 - The equivalent of a commercial quality trainer; comfortable, rugged, offers the heart pounding, fat burning workouts you want in an elliptical trainer.
Lifecore LC-CD700 - The LC-CD700 features Lifecore's patented electronic stride selection system. Select different lengths from 17" to 25" in 1" increments with just the push of a button.
Lifecore LC-985VG - Affordably priced at $799, the 5-year parts warranty is the best deal you will find in a budget machine; rated a 'Best Buy' by a leading consumer magazine.
Lifecore LC990 - Not recommended for big dudes.
Lifecore LC2000 - A compact cross trainer with a generous 20" stride, large user capacity and an impressive warranty.
---