The Lifecore LC-985VG Elliptical – An Outstanding Budget Model
The entry level Lifecore LC-985VG elliptical is smooth, quiet, well built, comfortable to pedal, gets outstanding reviews, and is affordably priced at $799.
What You Get
There are 12 pre-set workouts, 4 heart rate control programs, Watts and Recovery programs, plus 4 user ID profiles. The dual LCD window has a scrolling mode display as well as constant readouts for time, speed (miles/km), RPMs, distance, calories, and more.
The full specs on the Lifecore LC-985VG elliptical include: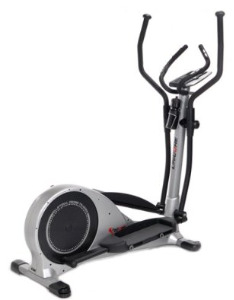 17.5" Stride Length
16 Resistance Levels
12 Pre-set Programs/4 HR workouts, 2 User IDs
Dual Contact heart rate sensors
Moving Handlebars
Adjustable slip resistant foot pedals
Forward and reverse pedal motion
Rear drive technology
Unit wt/dimensions: 125 lbs/ 52" x 30" x 63" (LxWxH)
300-lb. user weight capacity
Transport Wheels
Warranties: 5 years parts, 1-year labor
The Word on the Street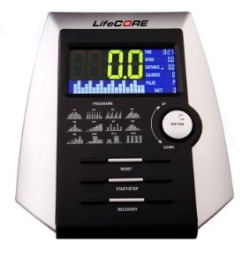 UPDATE: As of 2016 it appears that Lifecore Fitness is no longer making elliptical machines, choosing to focus on their exercise bikes and rowing machines instead.  
Check out our top picks in the $1000-$2000 category and $2000-$3000 category for comparable Best Buy machines.
The Lifecore LC-985 VG elliptical machine was rated a Best Buy by a leading consumer magazine in February 2009. It is a solid compact machine, ideal for users under 230 lbs (The 300-lb max user limit is overstated.
The machine weighs only 125 lbs, which is light for an elliptical. In comparison, Lifecore's high-end ellipticals also have a 300-lb capacity yet those models weigh 226 to 268 lbs.)
Components used in the Lifecore LC-985VG include a Magnetic Eddy Current Brake (ECB) system, a Poly-V Flexonic drive belt that is guaranteed never to stretch, and sealed ball bearings used in all moving parts.
The foot pedals can be positioned forward or moved back to better accommodate different size users. Lastly, the 5-year parts warranty is the best deal you will find in a budget machine.
The Lifecore LC-985VG gets excellent reviews by consumers and elliptical experts for smoothness, reliability, and durability.
There have been only two warnings reported and neither involves any mechanical issues: one, the console directions in the manual are a bit confusing to the new owner, and two, a few customers reported packaging issues where the plastic housing over the flywheel cracked during shipping.
Those same users reported that the company's customer service response was first rate. The folks at Lifecore are serious about making customers happy with their purchase and strive to address any issues quickly.

Our Thoughts
If your budget for a cardio machine falls between $700 and $900, it is well worth your time to review the LC-985VG elliptical cross trainer. There are a couple of front-drive Schwinns at this price level that we like, but rear-drive ellipticals have a design edge: they have a more natural elliptical motion and there are no roller tracks to collect dust, a problem for front drive machines.
You might have reviewed a few good rear-drive machines from Icon Fitness (the NordicTrack, Proform, and Reebok brands) that offer more programming than a Lifecore, but their limited warranties don't compare to Lifecore's 5-year parts and 1-year labor coverage.
At $799 for a rear-drive elliptical, there are two models that stand out: the new Yowza Largo, and this one, the Lifecore LC-985VG elliptical. It rates a Best Buy.
Show me other Lifecore Elliptical Trainers