Yowza Elliptical Trainers - Fixed and Variable Motion Cardio Machines

Yowza Elliptical Reviews
The high intensity Yowza elliptical trainers bring you a phenomenal approach to getting cardio fit as well as working out the legs, torso, upper body – and the most difficult muscle group in the body, the abdominals.
A New Company with Decades of Experience
Yowza Fitness was launched by Leao Wang who is the leading inventor of technology used in elliptical trainers and treadmills. He holds hundreds of patents on cardio equipment, more than any other inventor.
Wang is also Chairman of Greenmaster, a manufacturer of commercial fitness machines. When he left Smooth Fitness to launch Yowza, he not only wanted to offer outstanding and affordable machines to the public, Wang wanted a company that would design, manufacturer, and sell its products direct to consumers, without partners or middlemen.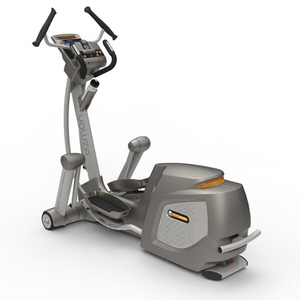 Based in Bonita Springs, Florida, Yowza elliptical trainers are engineered at the company's industrial design headquarters in Fort Lauderdale. They are then manufactured in Taiwan where Yowza owns its own factories. Experts generally agree that fitness products made in Taiwan are of a higher standard than products made in mainland China.
Yowza places strict quality control on the elliptical trainers it ships to the US where they are then shipped to consumers from a centrally located warehouse.
Wang would not have launched his own company unless he had something unique and better to offer in his line of equipment, which includes fixed motion ellipticals, Variable Motion Ellipticals (VME), and treadmills.
The Concept: Cardio-Core Ellipticals
UPDATE:  As of late 2017 it appears as though Yowza may be out of business.  In the mean time check out our Best Ellipticals section for a comparable model.
Yowza's latest innovations are found on the five CardioCore elliptical trainers: the Pompano, Sanibel i35, Captiva, Islamorada and Miami. All machines feature the exclusive counter-rotational core training.
This is a new way to target the abdominal muscles as well as work the upper and lower body. This concept uses the right leg up/right arm down and left leg up/left arm down biomechanical motion to continuously stress the ab muscles during the workout. The results are amazing.
All of the CardioCore models boast of Yowza's variable motion stride system of up to 32". With the touch of a button, you can choose from  different stride settings on the fly (while pedaling during any program). This is a superior high intensity workout for users of any height and weight to engage all muscles of the lower body.
For those who prefer to sit there is also the CardioCore EVO series, with three seated ellipticals, the Naples, Naples Plus and Naples Elite.

Dual Action Ellipticals
Even the affordably priced, fixed motion Yowza CardioSure elliptical trainers share in the advanced engineering found in the CardioCore series.
The Jupiter Pilot, Jupiter Plus, Navarre Pilot, Navarre Plus and Navarre Elite models feature the same rear-drive system that is rollerless and trackless.
These machines are not only maintenance-free, they offer the same silky smooth and silent operation as the more expensive models. Each of the four ellipticals also comes with Yowza's patented ErgoFit foot pedals, which feature a comfortable pivoting action and a cushioned rubber buffer.
The quality and ergonomics of these four designs are amazing and raise the bar for competitors who one could expect will want to catch up to Wang's innovations and vision for the future of elliptical trainers.
Along with great products, responsive customer service, a 30-day money-back guarantee, Free Shipping, and superior warranty coverage, Yowza elliptical trainers will be a big seller in years to come.
Yowza Elliptical Model Reviews
CardioCore Models
Yowza Captiva - Rated high in reviews for quality, silent operation, stable ride and range of motion; designed to target the body's core muscles as well as the legs and trunk.

Yowza Islamorada - A new top-of-the-line commercial grade trainer with lots of user options. Reviewers have nothing but praise for the innovative design and the top quality parts.
Yowza Miami - New model has an impressive stride length adjustment and incline range.
Yowza Sanibel i35 - The Sanibel i35 combines the best features of both the older Sanibel and Captiva; a fantastic machine that should give you a whisper-quiet workout for years.
Yowza Pompano - If the Captiva and Sanibel are beyond your budget, the Yowza Pompano elliptical trainer at $1,299 brings the remarkable core training to a more affordable level.
Yowza Naples - this is the seated series of elliptical trainers which includes the base, the Plus and the Elite.  If you like to sit while you train, these might be a good option for you.
CardioSure Models

Jupiter Plus - A great elliptical with a generous stride, up to 35 degree incline, multi-grip handlebars and solid warranty.

Yowza Navarre - Loaded with features; rollerless, trackless rear-drive design is super quiet, smooth, and maintenance-free.
Older Models
Yowza Bonita- The Bonita elliptical trainer launches an exciting new way to get in shape with a revolutionary technology and a low low price; beats most everything else offered with traditional ellipticals at this price.
Yowza Captiva Plus - A heavy duty machine and the latest incarnation of last year's Captiva with several improved features such as an adjustable incline up to 50%.
Yowza Largo - State-of-the-art innovations including a maintenance-free, roller-less, and track-less design on its rear direct-drive; solid construction, quiet operation.
Yowza Sanibel - Patented counter-rotational core motion: tones waist and stomach areas, strengthens and conditions the back muscles.
---