The Yowza Largo Elliptical Machine – State-of-the Art Design
The budget priced Yowza Largo elliptical machine offers several features that are usually only found on trainers costing at least $1000 more. In addition to the advanced technology on this elliptical, you will be impressed by its solid construction and quiet operation.
What You Get
The bright blue backlit LCD display on the Yowza Largo elliptical machine offers 9 user memory profiles to store weight, height and sex of each user, plus 12 programs including 3 Target (Time, Distance, Calories), Random (with 50 variations), Intervals and Endurance (each with 9 intensity levels), Watts, Fat Burning, Heart Rate Control, and Manual.
Specs on the Yowza Largo include:
Servo Motor Direct Drive Resistance System
Rear drive, silent roller-less action
Sure-Fit Pedaling System
18" stride length
12 preset programs
16 Resistance levels
Resistance Touch Sensors on moving handles
Grip Pulse Sensors on moving handles
Wireless Heart Rate receiver
iPod docking station/hi fidelity speakers
Unit Weight/Dimensions — 121 lbs; 59"L x 24"W x 67"H
Max User Weight — 331 lbs
Warranty: lifetime frame, 3 years parts, 1-year labor
The Word on the Street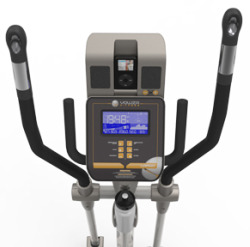 UPDATE: The Yowza Largo is no longer available. Check out all of the new models available on the company site to find a comparable elliptical machine.
The Yowza Largo elliptical machine features several state-of-the-art innovations including a maintenance-free, roller-less, and track-less design on its rear direct-drive.
This smooth, butter-like operation is also enhanced by the Sure-Fit foot pedals that pivot on cushioned rubber buffers. In addition to those advanced features, you will also find the Yowza Largo has hand controls mounted on the moving handlebars to allow for easy and quick changes to resistance levels. Grip sensors are there as well for heart rate monitoring during exercises.
There are not many ellipticals reviews done on these new Yowza models yet but what few are available are thoughtful and offer much insight for potential buyers.
New owners of the Yowza Largo boast that it was easy to assemble and that customer service is outstanding. Like most companies, Yowza Fitness offers a White Glove Delivery option ($199) where a technician will unbox and set it up in your home.
However, the Yowza Largo is so well machined (bolt holes line up evenly, etc.) and manufactured that there is no need to pay extra for any special delivery.
Most users will be able to set it up by themselves in about an hour without difficulty. The elliptical machine comes with Free Shipping and a 60-day return policy.
Our Thoughts
The Yowza Largo at $799 compares favorably to leading models in this price range including the Proform Spacesaver DX, the Kettler CT307, and the Ironman 420E.
The Largo elliptical machine, however, has the best warranty and customer service of the bunch. Although this is a new company, there is no need to worry that this is an untested design.
Yowza was launched by Leao Wang, the genius behind many patents on treadmills and ellipticals who formerly worked at Smooth Fitness. With an exciting design and aggressive pricing, the Yowza Largo elliptical machine looks to be a winning design.
Show me other Yowza Elliptical Trainers