The Yowza Naples Seated Elliptical Trainers are Quite Unique
Yowza Fitness has an extensive line of elliptical trainers, and the Naples series is probably the most interesting of all.  These are seated crosstrainers, so you are in a sitting position while you work out.  It's a unique way of training that some find very appealing.
What You Get
All Yowza Naples CardioCore EVO seated ellipticals are made of powder-coated robotically welded steel and feature a magnetic drive resistance system for quiet, smooth workouts.
Here are the specs on the seated series...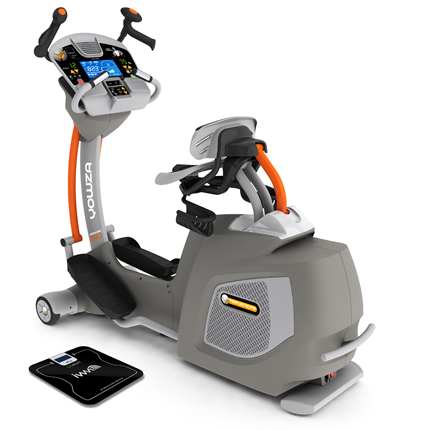 Power seat adjustment
16 resistance levels
Rear drive, silent roller-less action
17.7" fixed stride
CardioCore training handles
9 preset workouts
9 user profiles
5 custom programs
Built-in heart rate receiver
Sure-Fit™ Self-Pivoting Pedals
Max User Weight — 400 lbs
67" L x 23" W x32" H
Warranty: Lifetime frame & brake, 5-7 years parts & electronics, 2 years labor
The Word on the Street
UPDATE:  As of late 2017 it appears as though Yowza may be out of business.  In the mean time check out our Best Ellipticals section for a comparable model.

The Yowza Naples CardioCore series has been generally well received, as experts appreciate the unique features and innovative technology that goes into these seated elliptical trainers.
There are currently three different models to choose from: the base Naples, the Plus and the Elite.
All of the models are very similar, although you get a few added features as you move up the lineup.  The base model is about $1699 on sale and the upper end Elite is around $2799 on sale.  So these machines are certainly not cheap, but they are packed with features that make them very intriguing.
These Yowza ellipticals are rear drive, and you can go in reverse if you want to which is a nice touch.  They feature a fixed 17.7" stride, which might be a little awkward for very tall users.  But you can adjust the seat height to make the stride more comfortable for you.
All of the models feature self-pivoting pedals and CardioCore counter rotational handles to work your core muscles while you work out.  You can adjust the machine and automatically raise and lower your seat to target more upper body, more lower body or a 50/50 split hitting all muscles equally at the same time.
All models also include Mediaport with speakers, an mp3 port for your music, a 3 speed adjustable fan and a USB charger.
How are the models different?  We were just about to tell you.  :)
The Yowza Naples Plus includes a Polar wireless chest belt for heart rate monitoring. It is optional on the base model.
The Plus also has an EMS resistance system, which is more precise than the Servo Motor magnetic drive found on the base model.  It also has a water bottle holder, which is always helpful.
The Yowza Naples Elite takes it up another notch, with all of the features on the Plus model as well as MyLiveLight, an interactive app that tracks your weight via the included IWM scale, records all of your workouts and syncs with your mobile device to suggest optimized workout programs.
You can also hook up your phone and music via the included Bluetooth connectivity.
So all of the Naples seated ellipticals will give you pretty much the same workout, there are just added features on the Plus and Elite to give you more entertainment and tracking options.
Our Thoughts on the Yowza Naples Series
For all that you get, the Naples series is very impressive.  It all comes down to whether or not you want to sit while you train.  Personally, we like the standing elliptical experience, especially since these days you can change the resistance, change the stride, and choose an incline as well as a decline on some models.
Still, these machines do offer a very different workout experience that you might enjoy.  Sitting is always a good thing, and the counter rotational handlebars offer a consistent core movement throughout.  In that respect it's very effective.  The fact that you can target your upper body and lower body to any degree you want is also a nice feature.
In the end, you have to decide if a seated elliptical trainer is the right choice for you.  The Naples series is not cheap, so take a closer look before you decide to purchase one of these units.
The company usually offers free shipping, a 30 day money back guarantee, and they also throw in a freebie from time to time like a FitBit wristband. Take a look and see what you think.
Get more info and special sale pricing on these ellipticals here