The Livestrong LS10.0E Elliptical – Best Buy of the Bunch
Endorsed by legendary cyclist Lance Armstrong, the Livestrong LS10.0E elliptical is built by Johnson Health Tech with the goal of providing affordable fitness machines for budget-minded consumers. Since Armstrong is lending his name to the Livestrong line, quality is extremely important.
What You Get
The Livestrong LS10.0E elliptical has two LED windows showing time and distance. In the middle is an LCD display for information on the Livetrack™ Fitness Journal, and displays calories, heart rate, pace, level, and incline.
The features include: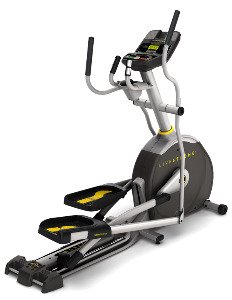 20" Stride Length
23-lb Flywheel
20 levels Incline
20 levels Resistance
11 Training Programs
Livetrack™ Fitness Journal
0" Q-factor Pedal Spacing
Contact Grip Heart Rate Monitor
Dual action upper body handlebars
Mp3 port with speakers
SixStar Certified™ frame
SmoothStride2™ Pedal Cushioning
CoolFit™ fitness fan
325-lb. User Capacity
Unit Weight/Dimensions — 199 lbs; 76" x 24" x 67"
Warranty: Lifetime frame & brake, 3 years parts, 1-yr labor
UPDATE:  Johnson HealthTech is no longer selling any ellipticals or treadmills under the Livestrong brand.  Check out Horizon and Vision for comparable machines.

The Word on the Street
The front-drive Livestrong LS10.0E elliptical trainer has 20 power incline levels at 5% increments, a 20" stride length, 20 resistance levels, upper body workout handlebars, and a fitness fan.
The pedals have SmoothStride2™ cushioning, and are spaced closed together (actually overlapping) in order to mimic a natural walking gait. In addition, Livestrong ellipticals are noted for their ergonomic oval pattern and smooth 23-lb flywheel, the largest flywheels installed on ellipticals at this price level.
Read what Lynn from Salem, Alabama has to say about the Livestrong LS10.0E
To keep you motivated, it comes with a USB flash drive that plugs into the console to track workouts. You can then connect the device to your PC to track your personal progress on livestrong.com, as well as download Lance Armstrong workouts.
The Livestrong LS10.0E also comes with "plug and play" speakers on the console that will work with any mp3 audio device.
Elliptical reviews indicate that the LS10.0E is not difficult to assemble but there are a lot of pieces and it will take 2 hours or more. Once assembled it is a very quiet and sturdy unit.
Our Thoughts
For two years, the Big Kahuna at the $999 price point has been the Sole E25 elliptical, and that is the model that the Livestrong LS10.0E has to beat. We have to say – it does in head-to-head comparisons.
The LS10.0E has a console that is easier to read at a glance, the frame weighs 200 pounds, some 10 pounds heavier than the Sole, and has a 23-lb flywheel compared to the Sole's 19-lb flywheel.
The Livestrong also compares favorably to its Horizon cousins, the EX-78 and EX-79, in the sub-$1000 machine category. Those are also built by Johnson Fitness and share the same components including the new SixStar Certified™ frame, although the Horizons use a smaller 17.6-lb flywheel.
The Livestrong LS10.0E elliptical trainer is the Best Buy of the bunch and is worthy of the Lance Armstrong endorsement.
Show me other Livestrong Elliptical Trainers