The Nautilus E514 Elliptical Trainer – It Doesn't Make Sense to Choose This One
The Nautilus E514 elliptical trainer is the only machine (and possibly last?) left in the company's line of ellipticals. It doesn't match up to its cousin brand, Schwinn, in quality, and industry insiders wonder if these will be on the market in another year.
What You Get
The Nautilus E514 elliptical trainer comes with a blue backlit LCD display that shows time, interval time, watts, distance, pulse, resistance, speed, RPM, calories, and course profile. It offers 11 profile workouts (including 4 Polar™ heart rate programs), a manual program, and 2 custom workouts for 2 users.
The features on the Nautilus E514 include: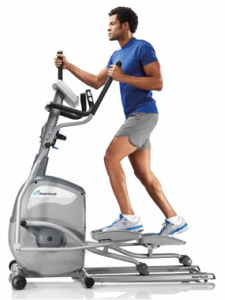 18" Stride Length
17 Programs
Eddy Current Brake (ECB) Resistance
16 Resistance Levels
Grip Heart Rate in Static Handlebars
Transport Wheels
Front Drive
Wt / dimensions: 165 lbs / 62"L x 26"W x 71"H
300-lb. User Capacity
Warranty: 10 yrs frame, 2 yrs parts, 1 year electronics, 6 months wear parts & labor
UPDATE:  This E514 is no longer available for sale.  You can check out the new E614 here: Compare Nautilus Elliptical Trainers

The Word on the Street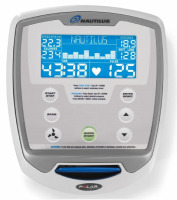 Nautilus is in the midst of a corporate makeover. They got out of the fitness apparel market in 2008, and now it is selling its commercial line of equipment to focus on the residential market. They also make Schwinn elliptical trainers, which are good machines, as well as a couple of home gym brands including Bowflex and Universal. Nautilus made a couple of well-designed ellipticals about a few years ago, including the NE 2000 and NE3000 which were priced over $2,500, but those glory days are over. Why they bother to make this unspectacular $799 E514 model is a mystery.
The elliptical reviews on the Nautilus E514 are less than enthusiastic, mainly because of the lack of a solid ride. Despite the fact that it weighs 165 pounds, this wobbler just doesn't feel like a quality piece of equipment. The E514 is the only residential elliptical trainer under the Nautilus name; the company's focus seems to be on developing the outstanding Schwinn ellipticals.
Our Thoughts
The Nautilus E514 elliptical trainer lacks in adjustability, reliability, ergonomics, value, and everything else. There are so many better choices out there for a trainer in the $600-$900 range, such as the NordicTrack AudioStrider 800 or one of the Schwinns, that it doesn't make sense to choose this one. Nautilus lost $90 million dollars last year, and industry experts are questioning how long the company can continue to burn through cash and stay afloat in this highly competitive market.
Show me other Nautilus Elliptical Trainers