Nautilus Elliptical Trainer Reviews – Decent Machines

Nautilus ellipticals are built by the same people that first brought you the Bowflex home gym years ago.
The company moved into the cardio workout market with a set of three Nautilus elliptical machines as well as several trainers sold under their other brand names, Schwinn and Stairmaster.
Schwinn has been noted as a best buy by Consumer Reports and other national reviewing organizations and the Nautilus once made it to second place on Consumer Reports' list of exceptional elliptical trainers.

The Nautilus Warranty Not What it Was
The company was founded in 1986 and had a reputation for building strong, well-designed machines that lasted for years.
In fact, Nautilus elliptical trainers originally had a 10 year parts warranty, which was a good indication of the quality of the manufacturing when they can cover the parts for so long; it's an unusually comprehensive warranty even for the high-end market.
Recently, warranties on their ellipticals have become quite poor, which isn't a great sign.  You can expect to get 10 years on the frame, 2 years on parts and 90 days on labor.  
That's a huge change from years ago.  As a frame of reference most models in this price range offer lifetime on the frame.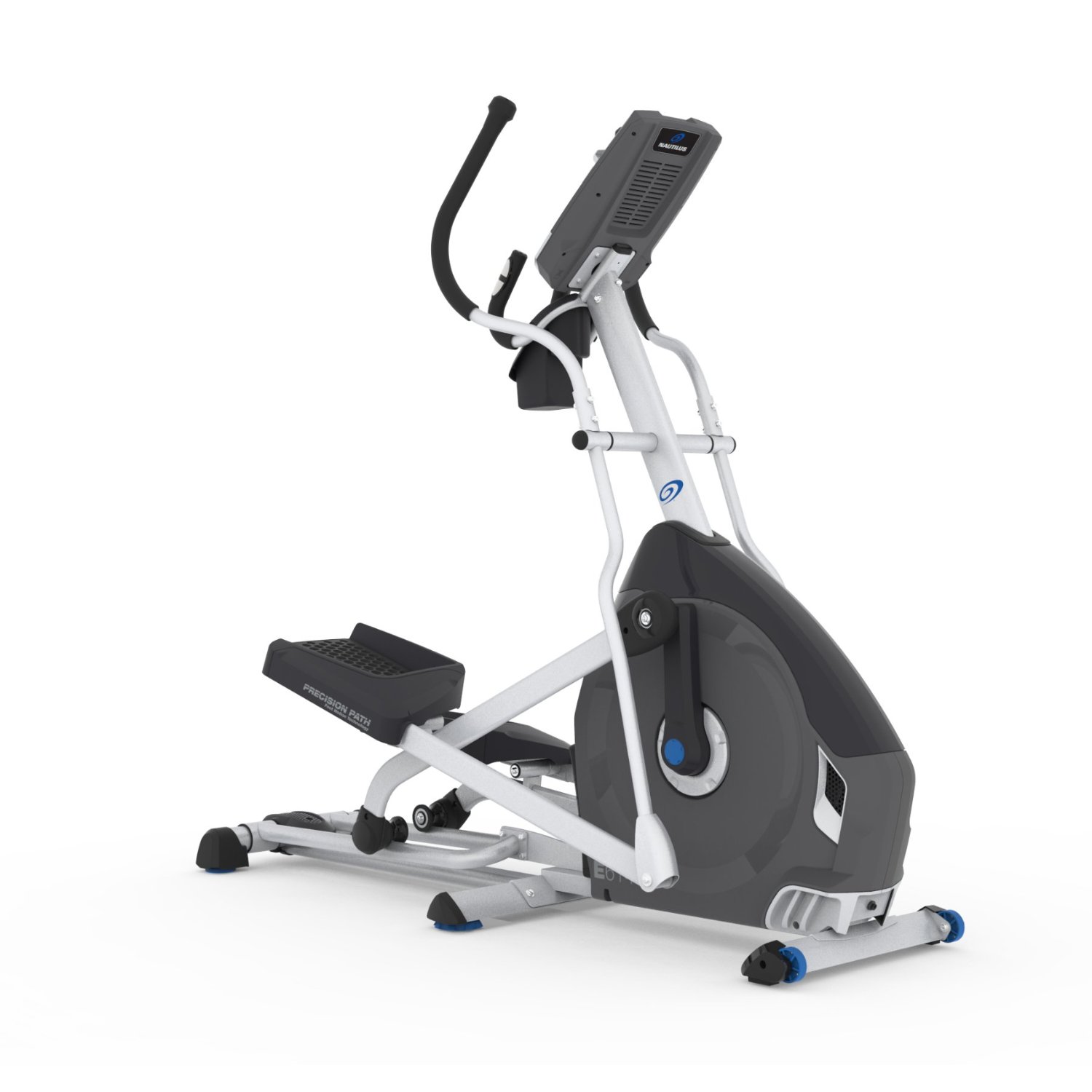 A Look at the Current Nautilus Elliptical Lineup
Once geared towards the high end market and competing with companies like Precor and Life Fitness, current Nautilus ellipticals are now mid-priced machines, ranging in price from $849 to $1,299, but you can usually get them on sale for much less than that.
Currently you have the E614, the E616 and the newer E618 elliptical trainers.
The Nautilus E614 offers 20 resistance levels, 6 manual incline positions and a 20" stride.  You get an 18 lb. flywheel, 22 built in workout programs, contact heart rate monitoring, articulating foot pedals, fan, sound system and a 300 lb. max user weight capacity.
The step-up Nautilus E616 gives you 25 resistance levels, motorized incline up to 10 degrees, a 22 lb. flywheel, 29 workout programs and a more advanced blue-backlit DualTrack LCD display.  The E616 also features Bluetooth wireless technology and is telemetry enabled for wireless heart rate monitoring.
Compare Popular Nautilus Elliptical Trainers on Sale Here
The top of the line model is the new Nautilus E618 elliptical trainer, which is an improvement on the E616 with a longer 22" stride, adjustable console, heavier 30 lb. flywheel, and higher 350 lb. max weight capacity, along with a much better warranty than the other two.

Both the E616 and E618 can be synced to My Fitness Pal and other health apps via Nautilus Connect, so you can monitor your workout progress and set goals for yourself.
The less popular E514c elliptical (recently discontinued) is the entry level machine, with a fixed 18" stride, 16 resistance levels, 20 workout programs and basic LCD display. You can pedal forwards or backwards, and also utilize the Nautilus Connect capability.
Which Nautilus Elliptical Should You Buy?
We don't wholeheartedly recommend any of the Nautilus ellipticals, simply because their warranties are so poor.  
If their warranties matched similarly priced machines, given the features and capabilities that they pack in we would say jump right in.
But with that kind of coverage, it's hard to be confident about how long the machine will last.
That said, if you simply love the Nautilus brand, and are willing to overlook the warranty, and perhaps buy yourself additional coverage for piece of mind, we would recommend at least the E616 to take advantage of power incline, smoother ride, wireless heart rate monitoring and workout tracking capability that the base E614 does not offer you.
If you are very tall, then the E616 is going to be your best bet as it has the longer stride length:  22" vs 20" on the others.  It's heavier flywheel also means it will be a bit smoother and quieter than the others.
The price is really not too different between the three models, but if it just comes down to budget, the E614 is a perfectly capable entry level model with plenty of features.
Still Popular With Customers
Despite the fact that the machines have definitely come down in quality over the years, customer reviews are still quite favorable and the Nautilus ellipticals, especially the E616 and E618, remain quite popular.
They do offer some good features, but there is a lot of competition in that price range from companies such as Horizon and NordicTrack.
If you do decide to purchase one of these machines, make sure you get an extended warranty to cover yourself...as we mentioned their warranties are not great, and you don't want to get stuck in case your elliptical turns out to be a lemon.
Where to Buy Nautilus Ellipticals
You can purchase Nautilus elliptical trainers directly from the manufacturer, through sites such as Amazon, through retail or commercial outlets, catalogs and licensed distributors, so they're easy to purchase. Nautilus does offer trained customer support for any problems and their customer service staff is generally quick to respond.
Amazon will usually give you the best prices...we've seen them discounted almost 50%, which makes them a great deal.
Following are reviews of the most popular models in the series, so you can learn a bit more about each including specs, industry news, buying tips and more.  This will help you make a more informed decision as far as whether or not a Nautilus trainer is a good choice for you.
Nautilus Elliptical Model Reviews
Most Popular Models
Nautilus E614 - An improvement on the E514 with more workouts, resistance levels and incline, yet still with a sub-par warranty.
Nautilus E616 - An upgraded E614 with power incline and Bluetooth wireless for workout syncing, but sharing the same inferior warranty.
Nautilus E618 - The top of the line model with a long 22" stride, plenty of workouts and resistance levels, and Bluetooth workout tracking.

Older Models
Nautilus E514 - There are better choices out there for a trainer in the $600-$900 range.
Nautilus E916 - a health club model featuring the finest in workmanship and quality components, 400-pound weight capacity and articulating foot pedals.
---