The Nautilus E618 Elliptical - The Company's Top Model
The Nautilus E618 elliptical is the top model in the series, with a nice arrany of built in workout programs, wireless heart rate monitoring, incline capability and tracking.  But for all of its pros, there's one downside that's hard to ignore...the less than stellar warranty.
Our experts took a close look at the E618 to see what it's all about, and to help you decide if it's worth buying...or if there are better choices in the price category.
Let's get into it...
What You Get
The Nautilus E618 features a sleek, modern design, arm incline/resistance controls and a dual blue backlit display showing you all of your workout metrics.
Here are the most important specs...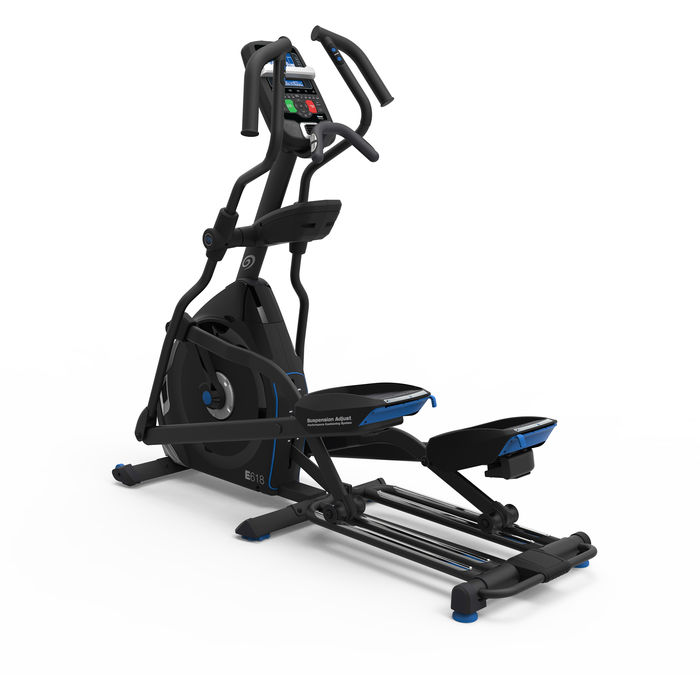 22" Stride Length
29 Workout Programs
Eddy Current Brake (ECB) Resistance
25 Resistance Levels
0-10% power incline
Grip and Wireless heart rate
Transport Wheels/Media Tray
Wt / dimensions: 210 lbs. / 73"L x 26.5"W x 66.93"H
350-lb. User Capacity
Warranty: 15 yrs frame, 5 yrs parts/electronics, 2 years labor
Check out the popular E618 on sale at Amazon
The Word on the Street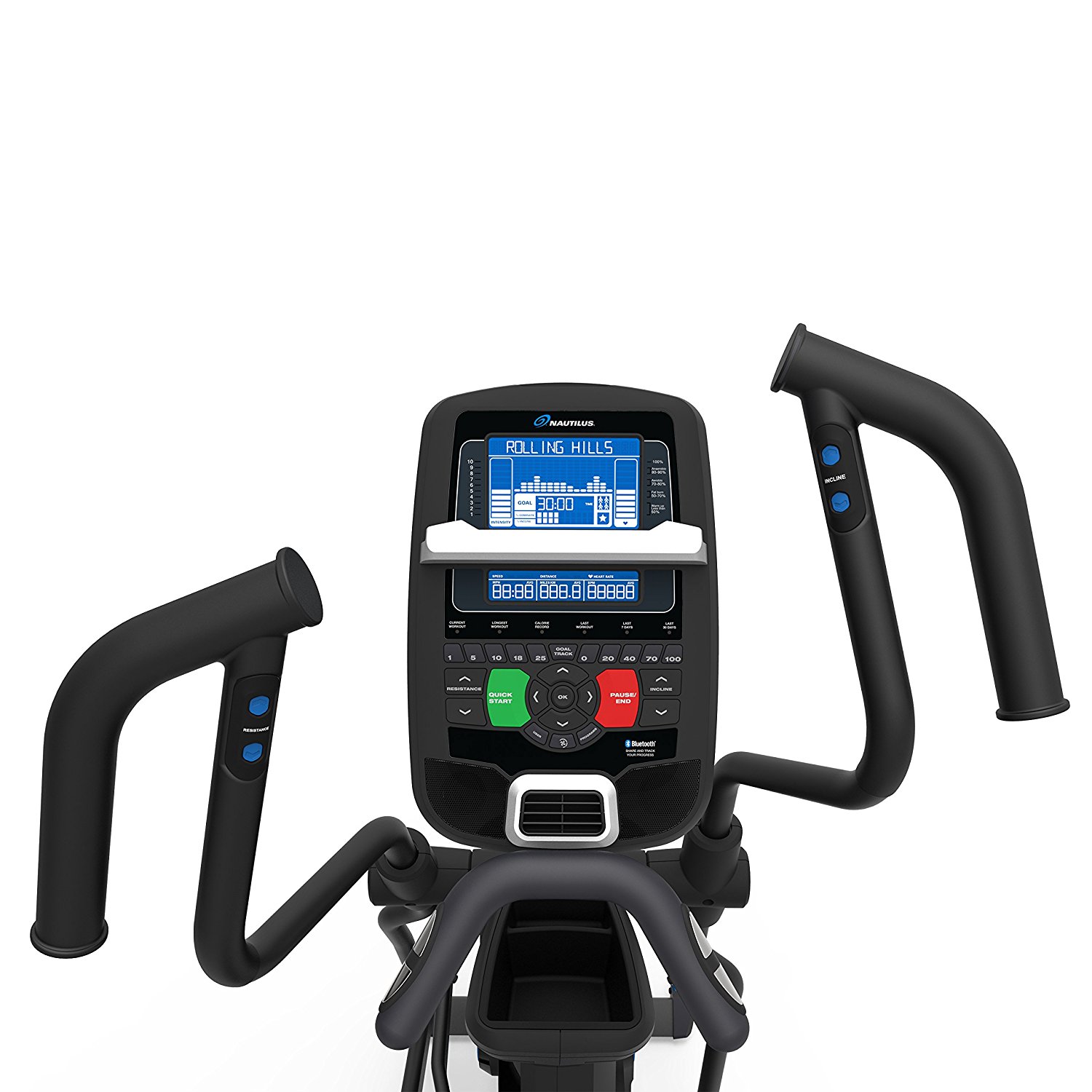 On paper the Nautilus E618 is a great elliptical trainer.  It has just about everything you could ever want.  It has a nice look and feel to it.  It's not overly heavy or large, so it fits in quite well in a home gym setting.
The console is large and bright, with two blue backlit windows.  It also tilts which is quite unique, so you can choose the angle that works best for you.  You won't find too many elliptical trainers on the market with this feature.
You get a hefty 29 built in workout programs that include intervals, weight loss, heart rate, distance, calories and more, as well as fully customizable programs.  There are 10 degrees of power incline to ramp up your cardio and target more leg muscle groups.
The E618 has a hefty 30 pound flywheel, 8 pounds heavier than the mid-level Nautilus E616 model, and 12 pounds heavier than the entry level E614.   A heavy flywheel makes for smoother, quieter motion, so the heavier the flywheel, the better.
Some other great features include the wireless heart rate monitoring, which tends to be much more accurate than the grip pulse that you find on most ellipticals.  You also get 4 user profiles, so it's good for the whole family.
Another impressive feature on the E618 is its 22" Precision Path Stride, which is longer than you get elsewhere.  Both the E614 and E614 have 20" strides, as do most of Nautilus' competitors...so 22" is a nice option, especially for very tall individuals.
There are plenty of places for your hands on the multi position handlebars, unique to the E618, and pedals are cushioned and articulated.
You get a 350 lb. max weight capacity, more than on the other machines in the series, and a sound system and workout fans.
Bluetooth capability allows you to track and share your workouts via the Nautilus Trainer 2 and RunSocial apps, so you can keep tabs on your progress and let your friends and family see how well you've been doing.
That all sounds pretty fabulous right? Well it certainly is.  There's a lot of great features here and some things you just don't find anywhere else, especially in the price category.
But there's one issue, and it's a pretty important one.  The warranty.  On the Nautilus E618 you only have a 15 year warranty on the frame.  That might sound like a long time, but if you can compare it to just about any similarly priced elliptical...from NordicTrack, ProForm, Horizon, LifeSpan, etc. it definitely comes up short.
All of those companies offer lifetime coverage on the frame, even on their lower cost ellipticals.  So it's interesting and telling that you only get 15 years with Nautilus.  We're not sure why this is the case, but warranties are an issue with all of the Nautilus brands, including Schwinn and Bowflex.
Other than that, the Nautilus E618 hits all the right buttons.  And you can always opt for the extended warranty for additional coverage.
How Does the E618 Compare to the Other Nautilus Ellipticals and the Competition?
There are currently three Nautilus ellipticals on the market today: the E614, E616 and E618.  As you move up in the lineup, you get more features and capabilities.
Let's take a closer look at all three to help you make a decision...
Nautilus E614
The entry level model in the series has a 20" stride, 6 levels of manual incline, 20 resistance levels, contact heart rate, an 18 lb. flywheel, 22 workout programs and a 300 lb. maximum user weight capacity.
Nautilus E616
The mid-level model ups the ante a bit with 10 levels of power incline, 25 resistance levels, contact as well as wireless heart rate monitoring, a 22 lb. flywheel and 29 workout programs.  It also adds Bluetooth workout tracking.
Nautilus E618
The top of the line E618, as you've read about above, steps it up even further, with a 22" stride and a 22 lb. flywheel.  It also has a 350 lb. max weight as opposed to 300 lbs. on the other two ellipticals.
The Nautilus ellipticals range in price from about $849 to $1299, so you can choose the one that fits with your budget.
Our favorite is the E618, as it has the most generous stride length, the heaviest flywheel and the highest max weight capacity.  If there are multiple users, or if you are on the taller/heavier side, the E618 will be able to accommodate you more than the other two models.  
If you don't need all of the additional features, then the E616 is a good compromise.
What about the competition?
At around $1,299, the Nautilus E618 competes directly with the more affordable NordicTrack C Series, and in particular the popular C 12.9.
Feature-wise, they are comparable, but we would definitely give the edge to NordicTrack as it features a 7" Smart HD touch screen rather than the LCD on the E618, a heavier flywheel, better warranty and of course, the iFit workout technology. So NordicTrack is giving you more for your money.
Another competitor at $1,299 is the Sole E35, which also compares favorably with more incline, a higher max weight capacity and a much stronger warranty.
ProForm has the SMART Pro 12.9, and Horizon has the Evolve Series, both of which give you more for your money and stronger warranties across the board.
Final Thoughts on the E618 Elliptical
The Nautilus E618 is a feature packed elliptical that gives you alot of capability at an affordable price.  You get plenty of resistance levels, a nice variety of workout programs, incline functionality, wireless heart rate and the ability to track and share your workouts.
The only thing missing is the frame warranty, which at only 15 years doesn't come close to the lifetime coverage offered by most of the company's competitors.
If you're OK with the coverage, by all means go for the E618 as it gives you just about everything you need in a home elliptical.  But consider NordicTrack, Sole and ProForm as well.  They have better value choices in the price category.
Get more info and special sale pricing on this elliptical here