The Nautilus NE 3000 Elliptical Trainer - Quiet, Smooth Performance
You can kick it up a notch by moving up to the Nautilus NE 3000 elliptical trainer for about $300 more. You'll get the same high quality construction of commercial grade steel and a heavy-duty, substantial machine, but there will be a few more features that hard-core exercisers favor.
What You Get
Nautilus machines are monsters of stability and will last you for years, so going with the Nautilus NE 3000 elliptical trainer is a safe bet in the durability department. You also get plenty of features for the $2,700 price tag: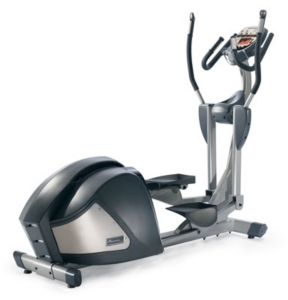 Upper body workout
Reverse motion
Electromagnetic resistance
11 preset programs
16" stride
350 lbs. weight limit
SyncLink elliptical motion
20 resistance levels
LED display console
Choice of wireless or hands-on heart rate monitor
Warranty: 30 yrs. frame, 3 yrs. parts and electronics, 1 yr. labor and wear parts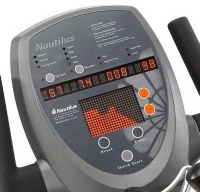 The main differences between the Nautilus NE 3000 and the lower priced 2000 elliptical trainer are the addition of one program, four resistance levels and an improved console. Worth $300? It depends on the variety you need in your workout and what you look for in a console. The console on this model has four separate display screens so that you can keep track of a variety of functions simultaneously and provides virtually instantaneous feedback, which is a very nice added touch.
The Word on the Street
As with the 2000, the Nautilus NE 3000 elliptical got high marks from trainers for the precision glide and the comfort provided by the articulating foot plates. It's one of the most outstanding features Nautilus offers and is consistently noted by fitness experts as one of the best design features available on an elliptical machine.
UPDATE:  This NE 3000 is no longer available for sale.  You can check out the popular new E series models here: Compare Nautilus Elliptical Trainers Here

They are generally disappointed, however, that for the added cost you still don't get a stride longer than sixteen inches. Given their own preference, they would have passed on the four additional resistance levels in favor of a stride that was two to four inches longer.
Consumers like the Nautilus NE 3000 model, but lean toward the NE 2000 elliptical trainer because it's a bit less expensive. There are some die-hard fans who feel that the difference between twenty resistance levels and sixteen is worth the extra cash, but most don't see it that way.
Our Thoughts on the NE 3000
The Nautilus NE 3000 elliptical trainer will give you years of quiet, smooth performance. If it's a bit clunky looking, who cares? This is a machine that will genuinely out-perform most others in its price range. The articulating foot plates and SyncLink elliptical motion will both inspire you to exercise longer and harder because of the increased comfort.
If you have the extra few hundred dollars and varying your workout is important, the additional resistance levels are nice. Since you're getting an upgrade on the machine that Consumer Reports rated a Best Buy, you won't regret investing in the Nautilus NE 3000 elliptical trainer.
Show me other Nautilus Elliptical Trainers