The Pulse 280 Elliptical by Smooth – Commercial Quality at Its Best
You could say that one of the best elliptical trainers made is the Pulse 280 elliptical by Smooth. This machine is a work horse with an incredible guarantee and will give you years of performance. Interestingly, it's also one of the machines that you won't read a lot about online. The model is the most expensive that the company makes and, because a
ll of their models are so high quality, sales of the Pulse 280 Smooth elliptical trainer seem to suffer.
What You Get
If you buy a Pulse 280 elliptical trainer by Smooth, you aren't purchasing for the features, although there are plenty of them, so much as for the commercial quality of the machine.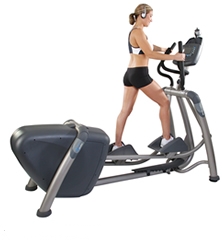 Reverse motion
Ergonomic, pivoting foot pedals
LED dot matrix display console
Electromagnetic braking system
Hand grip pulse monitor
Adjustable stride: 19"-22"
28 levels of resistance
425 pound weight limit
Multiple programmable workouts
Warranty: Lifetime on all parts, 3 years labor

Take a look at the specs above – Smooth Fitness's Pulse 280 is made for people who want power, a wide range of capabilities and use and something that is virtually indestructible. This elliptical trainer isn't an investment for the casual user.
The Word on the Street
Trainers classify the Pulse 280 elliptical as a gym quality elliptical machine. By this, they mean it's a good purchase if you're really setting up a home fitness room that will be used for some serious workouts. Smooth designed this trainer to be used 7-8 hours a day with no problem.
UPDATE:  The Smooth Pulse 280 is an old model and is no longer being sold.
Trainers love the adjustable stride – it's designed for multiple users and provides even the tallest user with extreme comfort and a natural stance while working out. Other features they like include the 28 levels of resistance – one of the highest in the industry.
Consumers who purchase the Smooth Pulse 280 elliptical are either true fitness gurus or people who realize they may have gone into overkill by purchasing this machine. Lured by the multiple resistance and great warranty, some are upset when they realize just how big this monster is. The Pulse 280 has one of the biggest footprints in the industry and weighs in at almost 400 pounds – better put this elliptical trainer in the basement!
Our Thoughts
Suitable for a true home gym, the Smooth Pulse 280 is an elliptical trainer that's got power, performance and a warranty that's amazing. All parts are covered for as long as you own the machine, with three years labor – it's a worry-free, exceptional warranty that no one else can match at this price. But do you need this much machine? Probably not, unless your son's high school football team works out every day on it.
We even talked to a Smooth Fitness representative, who said for most people the Pulse 280 elliptical trainer is a bit of overkill. The honesty and the recommendation of a few other Smooth Fitness models as less expensive alternatives proved to us that this is a company that focuses on the customer's needs.
Show me other Smooth Elliptical Trainers