Reebok RL 645 Elliptical Trainer – Average in Design & Reliability
ICON Fitness is the actual manufacturer of the Reebok RL 645 elliptical trainer. They've simply licensed the Reebok name for their line of mid-priced elliptical machines. The quality is good, but not commercial quality or club quality. It's decent for home use, though, for the individual who isn't going to push it to the max.
What You Get
There are some very nice features on the Reebok RL 645 elliptical trainer that make it interesting, with the console one of the best features. Reebok ellipticals seem to have excellent electronics in general, with lots of information at your fingertips. Other features include: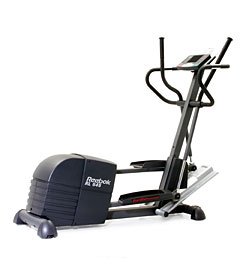 Upper body workout
Padded pedals for comfort
Power incline ramp
Reverse motion
Interval training
Cool-Aire fan
Digital resistance
Interactive heart rate course
8 pre-set programs
LCD display console
Hand grip heart monitor
iFit technology
Warranty: 90 days
Reverse motion
Interestingly, we couldn't find either the weight limit or the actual stride length mentioned in any reviews or even the literature produced by Reebok/ICON for the Reebok RL 645 elliptical trainer. That's unfortunate, since this is crucial information for some potential users.
The Word on the Street
UPDATE:  The Reebok RL 645 is no longer being sold, and the company is no longer making ellipticals.  Check out our Best Ellipticals Under $1000 for a much better option.

The consensus seems to be that the Reebok RL 645 is okay for $800, but there are other elliptical trainer brands at this price that are higher in quality.
The advantages of the interval training program and extra-comfortable foot pedals are outweighed by concerns about the construction quality. ICON has a bit of a reputation in this price range for using parts that wear out quickly.
Some experts note that the option of either using the upper body workout or using the hand rails is nice, however, for people who want to vary their workout.
Owners of the Reebok RL 645 seem satisfied with their purchase, but those who are unhappy have multiple complaints. This goes back to problems with customer service.
Because of the paltry 90 day warranty on this elliptical trainer, once problems set in, owners seem to have trouble getting assistance and parts even when they're paying for them.
Our Thoughts
If you're going to be exercising a few times a week to lose some weight and give yourself a mild cardio workout, the Reebok RL 645 is an acceptable elliptical machine.
The interval training is actually a very nice feature for beginners who may not be able to pace themselves properly for a workout with maximum benefit otherwise. We also like the interactive heart race course.
But, true to this label in general, the Reebok RL 645 elliptical trainer is only average in design and reliability. It has a great console, but it's lacking in the actual elliptical motion, which is a bit noisy and not as smooth as it should be at this price.
Show me other Reebok Elliptical Machines