The Reebok RL 725 Elliptical Trainer – Above Average for the Price
The Reebok RL 725 elliptical trainer is actually made by ICON Fitness, but carries the Reebok licensed name to indicate it's entry as a part of ICON's line of elliptical machines aimed at the mid-range market. The RL 725 caters to individuals looking for a solid machine that will hold up for several years at a reasonable price. Coming in at around $950 (watch for sales on this model, as the price fluctuates a bit), it's a nice all-around machine.
What You Get
The Reebok RL 725 elliptical trainer has several good points going for it that make it above average for this price range, and it's definitely worth a look. You'll get: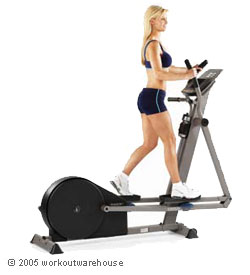 Upper body workout
Silent magnetic resistance
18" stride
8 pre-set programs
Reverse motion
Variable foot pedal positioning
iFit compatibility
Pulse grip and chest strap heart rate monitors
Rear flywheel
14 levels of resistance
Warranty: 90 days
You get all of the stuff you need and no extras that you don't in a well-constructed machine backed by ICON's immense R&D facilities.
The Word on the Street
UPDATE:  The Reebok RL 725 is no longer being sold, and the company is no longer making ellipticals.  Check out our Best Ellipticals Under $1000 for a much better option.

Trainers like to recommend the Reebok RL 725 elliptical trainer to home users because it's backed by ICON, which invests a lot in researching new technology and tends to stand behind their equipment.
They also realize that consumers will recognize the Reebok name and associate it with quality, so it's an easier sell than some comparable brands that aren't familiar. Since the Reebok RL 725 is a nice little piece of equipment, there's nothing wrong with that. They do note, however, that a Reebok elliptical trainer isn't going to last like a brand costing a thousand or so more would.
Consumers who do tire of the multitude of workouts say that the iFit capability is an add-on they love -- downloading additional programs means they prolong the performance they get.
Individuals who've purchased the Reebok RL 725 have only one complaint -- it tends to develop some noise after several months to a year of steady use. This isn't altogether unexpected for an elliptical trainer in this price range, but if you're looking for an absolutely silent ride, you'll be disappointed.
Our Thoughts
There's a lot to like about the Reebok RL 724 elliptical trainer. Its performance is reliable and the machine is heavy enough to stand its ground without the wobble you sometimes get with cheaper models. With 14 workouts and 8 pre-set programs, even someone who's been working out for a few years will get enough variety from this elliptical.
Of course, we always come back to the elliptical trainer's stride length -- this one has an 18" stride, so it can accommodate a man of 6'2" and a woman of 5'4" with equal ease.
Some people are picky about what kind of heart rate monitor they use, but ICON's even thought of that -- the Reebok RL 725 comes with both a hand grip pulse monitor in the handlebar and a wireless chest strap.
But ICON continues to disappoint in the warranty department -- 90 days makes us suspicious of even the most well-constructed machine. We have no doubt they lose sales to other companies whose machines don't offer as many features, but have a better warranty.
If they would increase their coverage, the Reebok RL 725 elliptical trainer could move from very good to excellent in its price range.
Show me other Reebok Elliptical Machines