The Smooth Agile DMT - Full Body Workouts in One Machine
The Smooth Agile DMT is a Dynamic Motion Trainer, a revolutionary new design that combines the best features of an elliptical with an arc trainer. It offers an exceptional cardiovascular workout, a beautiful design, low noise, solid feel and comfortable glide, and a good warranty. We loved everything about it. Except the price.

What You Get
Fitness buffs who hate lifting weights but need to work the core and upper body will find Smooth Fitness's Agile DMT is the answer. The forward motion targets the muscles in the quads and gluts, much the same as if you were doing squats and lunges.
Then, put the machine in reverse and you're targeting the calves and hammies. Add in the arm swing and you're working out the shoulders, traps, and upper arms. It's just a nice full-body workout all in one machine.
Let's look at the specs...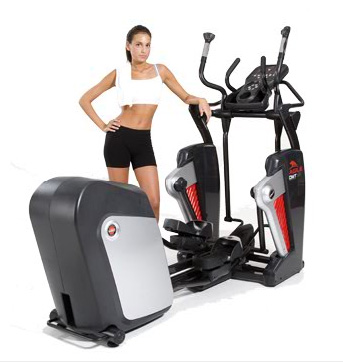 Resistance Adjustment using Electromagnetic Brake System
Self-Pivoting Pedals with Shock Absorbing Cushion
20 Levels of Intensity
12 Distinct Patterns of Motion
9 preset programs
Minimum stride length in elliptical mode: 19 in (48 cm) 
Maximum stride length in agile mode: 39 in (99 cm) 
Hand Grip Pulse Sensors on moving handles
Polar® Wireless Heart Rate Sensor
Patented Lite Touch™ Thumb Controls
Transport Wheels
Floor Level Adjustment
Unit Weight/Dimensions - 390 lbs; 73"L x 31"W x 65"H
Max User Weight - 400 lbs
Lifetime frame, lifetime magnetic brake, 5 years parts, 1 year labor warranty
The Word on the Street
Trainers love the quality and construction in this Dynamic Motion Trainer. As for features, the Smooth Agile DMT has all the bells and whistles you can imagine including thumb controls mounted right on the handlebars to adjust intensity and motion pattern.
No shortcuts were taken in its design but as a result the price remains steep. Its closest competitor in functionality is the Cybex Arc Trainer which runs about $500 cheaper.
At over 6' long, Smooth Fitness's Agile DMT has a big footprint so you'll need a lot of space for it in your home gym. Despite the large size, users love the versatility that an adjustable dynamic motion trainer offers. Ellipticals can get boring after awhile but this machine incorporates 12 motions while recruiting more muscles groups into the workout than any other cardio machine.
They like the fact that they no longer need several machines to work all muscles groups - just one machine does it all.
Read what Eddie from Chicago, IL had to say about his recent purchase of an Agile DMT
Our Thoughts
Die hard fitness buffs will definitely enjoy being the owner of a Smooth Agile DMT because of the high intensity workout. This machine is no comparison to an ordinary elliptical but at $4999 MSRP it's definitely an expensive machine, although we have seen it on sale for as little as $2600.
If this kind of money is still way over your budget, we recommend you have a look at the Agile DMT-X2, Smooth's newest version of the Dynamic Motion Trainer.

Show me other Smooth Elliptical Trainers