The Smooth CE 3.0XT Compact Elliptical with Adjustable Stride
The Smooth CE 3.0XT compact elliptical trainer is an upgrade for 2013, giving users an adjustable stride and a lifetime frame and brakes warranty with three years for parts and electronics.

What You Get
The Smooth CE 3.0XT features a backlit, LCD touch screen for the usual readouts, such as times, RPM, speed, distance, calories burned, watts, pulse rate and target heart rate. The 24 intensity levels let you gradually up your game across 19 programs, including 4 heart rate programs and a dozen pre-set programs. You can also choose from weight control, personal, recovery, random and manual modes, so variety won't be a problem when working out. 

The specs on the Smooth CE 3.0XT compact elliptical include: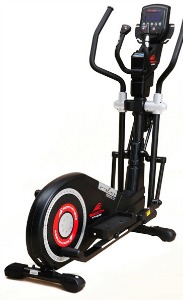 17" to 20" Adjustable Stride Length19 Programs
24 Intensity Levels of Magnetic Resistance
Moving Handlebars
Handgrip Pulse Sensors
Wireless Chest Belt (included)
MP3 Connection with Speakers & Volume controls
Ergonomic Pivoting pedals
Rear Drive
Transport Wheels
300-lb. User Capacity
Dimensions/Wt: 65"L x 17"W x 26"H / 168 lbs
Warranty: lifetime frame & brake, 10 years parts & electronics, 2 years labor
The Word on the Street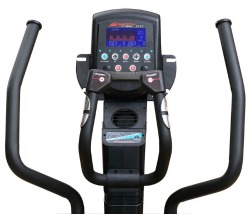 UPDATE:  The Smooth CE 3.0XT is no longer being sold.  You can check out our list of the best ellipticals $1000-$2000 for a comparable machine.

The Smooth CE 3.0XT compact elliptical will quickly move to the head of the pack among compact machines because it's one of the few scaled down models that has actually kept all of its best features.
Online reviews are almost all four or five stars, with users praising the small footprint, light weight and Smooth's performance, which is (as usual) outstanding. 
Reviews point out that while this is a compact machine, it has an adjustable stride that actually goes up to 20", while the CE 3.0DS from last year had a mere 19" stride.
More than a few users pointed out that the CE 3.0XT might be the best compact machine on the market, particularly for situations where more than one person would be using it. A three inch variation in the adjustable stride isn't something you'll find elsewhere in a machine with such a small footprint.
Reviewers also praised the rollerless performance, which gives one of the silkiest rides on the market. They appreciate not having to worry about repairs on damaged or overused rollers, making this compact model a favorite with just about everyone.
Our Thoughts
The folks at Smooth Fitness have taken the older CE3.0DS and reconfigured it as the new for 2013 Smooth CE 3.0XT compact elliptical.  It's an impressive feat, since the weight of the unit has dropped from over 300 pounds to just 168 pounds.
The footprint is enviable, at 65" long and 27" wide overall, making it an excellent choice if you want an outstanding machine that won't hog the living room or bed room.
The Smooth CE 3.0XT retails online for $1999, but it's currently on sale for just $999, making it one of the best buys on the mid to high-end market. The warranty, which includes lifetime coverage for the frame and brakes, 3 years for parts and electronics and 2 years for repairs, is excellent, but you'll probably never need it.
If you do, rest assured that Smooth's customer service is knowledgeable and responsive, so you won't have to wait around for weeks hoping your back-ordered parts will come in.
If you have a spare $1000 but not much room in your home, the Smooth CE 3.0XT compact elliptical is one of the best fitness investments you can make.
Show me other Smooth Elliptical Trainers