The Spirit XE 150 Elliptical Trainer - Sturdy and Basic Model
It's not only the sturdy feel of the Spirit XE 150 elliptical trainer that makes us sit up and take notice, it's the quietness during the workout and the smooth motion that Spirit elliptical machines are known for. The company has been making treadmills for years and while they are relatively new to the elliptical market, they have proven they can produce a line of quality machines to compete with better known brands.
What You Get
The Spirit XE 150 elliptical trainer offers a bright, easy to read LCD data display that reports time, distance, calories / watt, pulse, and speed / RPMs. The full list of specs includes: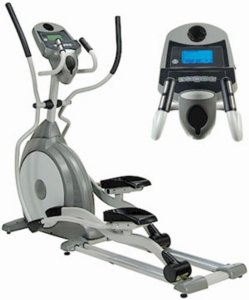 13 pre-set programs; 1 user defined; 1 heart rate
16 resistance levels
Pulse grip & wireless heart monitoring
Blue backlit LCD display
20" stride
30-lb flywheel
Dual direction (forward, backward)
300 lbs user weight capacity
Cooling fans
Warranty – Lifetime frame; 5 yrs. parts; 2 yrs. labor
Compare the current Spirit ellipticals on sale now at Amazon!
Spirit elliptical machines allow you to work different muscle groups, and the Spirit XE 150 even includes a dual direction glide path to help you target abs/hammies (using reverse direction), as well as quads/gluts/calves (using the forward direction).
The Word on the Street
Trainers will tell you that the 20" stride on the Spirit XE 150 elliptical is a great advantage over other models in this price range.
Most models offer only a 14" or 16" stride, so large folks or even small women who like to take long strides will experience a comfy feel on this elliptical trainer. The rest of the features and the quality of the design are also first rate.
We have heard of consumers who have notched a few complaints about the plastic flywheels of the Spirit XE 150. It's covered by warranty in the first 5 years of course, but this problem needs to be resolved on this elliptical trainer model.
Our Thoughts
The Spirit XE 150 is a sturdy home unit that feels much like the big boy elliptical trainers you work out on at the health club.
The XE 150, which sells for an MSRP of $1199, is the more basic model compared to the XE 350 and the XE 550 in that it doesn't have the adjustable foot pedals, the "orthopedically correct" foot pads, the HR control feature, or extended programming buttons.
If you can do without those bells and whistles the Spirit XE 150 elliptical trainer is a good value machine.
Show me other Spirit Elliptical Machines