Spirit ZE50 Elliptical Trainer – a Basic Machine with a Fair Amount of Style
The Spirit ZE50 elliptical trainer is a somewhat unusual elliptical machine offered at around $900. Spirit has developed a line of exercise equipment that is decidedly stylish and they present them well.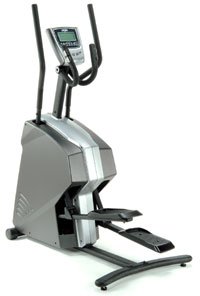 To keep the feel of a club quality offering, Spirit ellipticals are only available through authorized dealers and the company has their own corps of licensed professional repair specialists.
This guarantees that any work that needs done will be performed by a qualified expert. But the Spirit ZE50 elliptical trainer isn't one of the most popular machines in its price range because it has some limitations.

What You Get
The Spirit ZE50 elliptical trainer has the basics, including:
Silent magnetic resistance
16 resistance levels
12 pre-set programs
LCD display console
Hand grip heart monitor
18" stride
Front flywheel
Warranty – Lifetime frame; 2 yrs. parts; 1 yr. labor
Compare the current Spirit elliptical machines at their online store!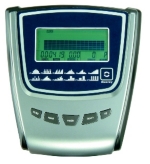 If this list seems a bit short, it is. There is no upper body workout with this elliptical trainer, which is something we would expect when you're approaching the thousand dollar mark.
The Spirit ZE50 model is lacking in extras and doesn't offer anything like iFit capability or programmable user IDs. This is a basic machine with a fair amount of style. Spirit is known for making all their equipment look sleek and fashionable.
The Word on the Street
Trainers in general don't seem to think about suggesting the Spirit ZE50 elliptical trainer much. Their reservations focus primarily on the front flywheel design, which has two drawbacks. First, it tends to be a bit noisy and develops squeaking and rubbing early on.
Second, the position of the flywheel in relation to the hand grips is awkward. If the user is on the short side, he or she may have to bend forward a bit to reach the hand rails, ending up improperly aligned for their workout. It can lead to back pain that will discourage continued use of the machine.
Consumers note that while the stride is advertised as 18 inches, it feels shorter. Part of this could be because of the odd motion, which is almost a cross between an elliptical and a stepper, with much more up-and-down movement than other elliptical trainers. It gives the Spirit ZE50 a bouncy, jerky feel that you shouldn't have in a mid-level trainer.
Our Thoughts
Don't purchase this unless you've personally tried it out. Some people will like the feel of a cross between stepper and elliptical. If this appeals to you, the Spirit ZE50 is solidly built and has all the essentials.
For the price, however, there aren't a lot of extras and it doesn't ride as quietly as others in the same price range. We suggest you check out some other ellipticals with a rear flywheel design before settling on the Spirit ZE50 elliptical trainer.
Show me other Spirit Elliptical Machines