TRUE Elliptical Machines - High End Quality For Your Home

True ellipticals offer the perfect solution for those looking for a gym quality workout machine without the large footprint.  The company has figured out a way to provide all of the features and comforts you want in a small, compact package.
True has been around for more than 30 years, and prides itself on new innovations and technologies, always improving the user experience and maximizing the results that you get from each and very workout.
The Current True Elliptical Lineup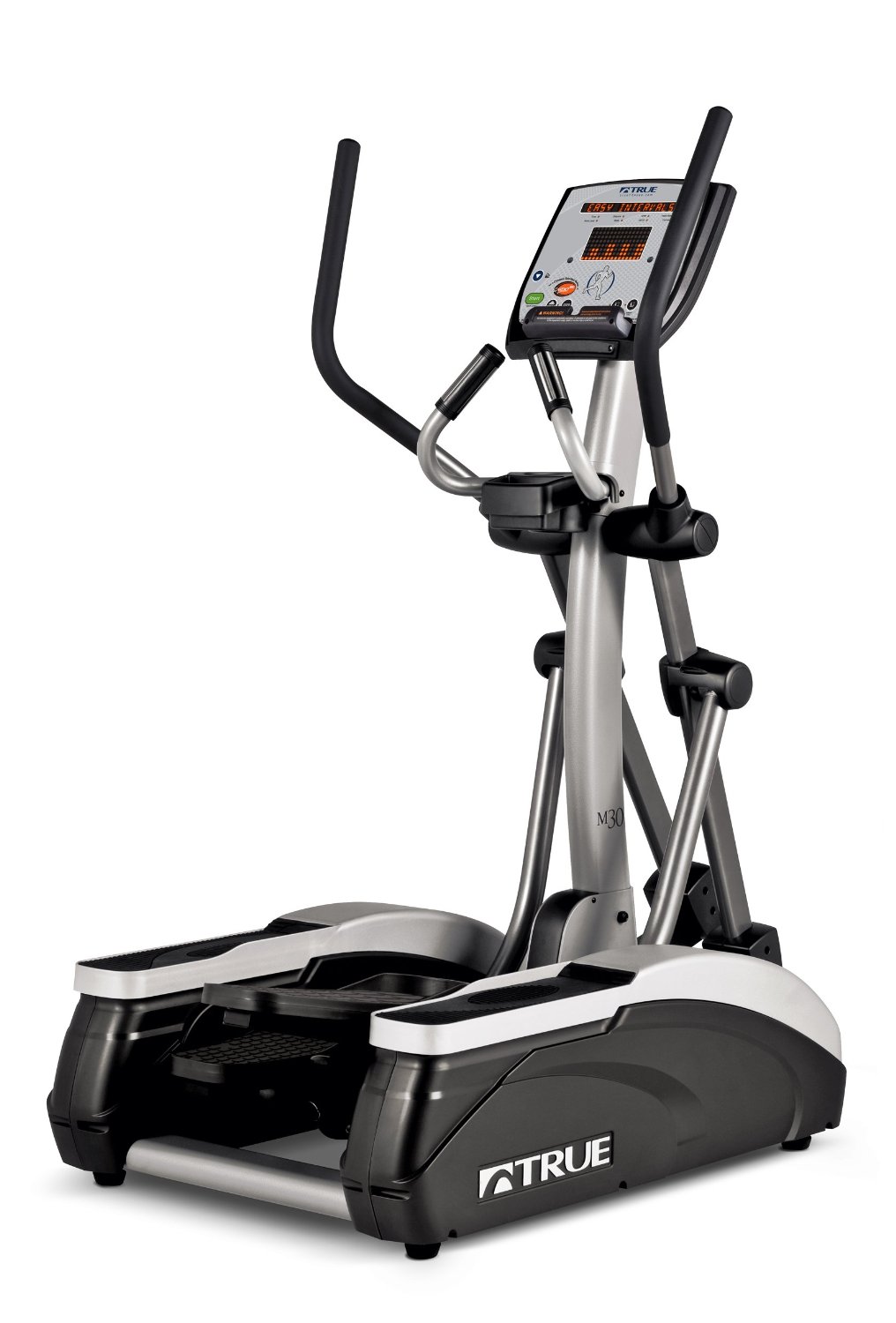 Per our latest True elliptical review the current offerings include the M Series, Performance Series and ES Series ellipticals.
TRUE M Series
The entry level M Series consists of the popular M30 and M50 ellipticals.
The M30 has received multiple awards, and is one of their best selling machines.  It has one of the smallest footprints you'll find, especially on a commercial grade elliptical.
It also has the Cardio 360 personal trainer, side steps for an upper body workout, heart rate cruise control and a 21" stride.
The up-level M50 has all of the features of the M30, plus ergonomic multi-grip handlebars and orthopedic cushioned footpads.
Both models have a 300 lb. max weight capacity.
TRUE Performance Series

The step up Performance series features only one True elliptical, the Performance 300, also known as the PS300.
The Performance 300 is more advanced than the M Series ellipticals, adding 12 built in workout programs and removable orthopedic footpads.  It can also accommodate a heavier user, at a max weight capacity of 350 lbs.
TRUE ES Series

The top of the line True elliptical is the ES700, also the only ES model in the series
The ES 700 has the unique AutoStride technology, smoother and even more natural than the motion in the M and Performance series ellipticals. It also is the only model with an additional console option called the Transcend.
The Transcend console, as opposed to the Emerge LED one found on all other models, is a touch screen with Bluetooth connectivity for workout tracking and popular app compatibility, as well as 6 user profiles and a number of built in workouts.
All of their machines are built mid-drive, which basically means the mechanism is right under your feet as opposed to front-drive and rear-drive models that you find elsewhere.
This positioning allows for the most natural movement as well as a better sense of balance, mimicking your every day walking motion.  This style is becoming more and more popular, with many companies including NordicTrack now offering mid-drive models for sale.
Find the most popular models on sale now at the official company site!
The Pros
There are many pros according to our True elliptical reviews.  They have receive numerous Best Buy awards from various industry entities, including the Treadmill Doctor.
They are extremely well made and whisper quiet, with many comfort features including adjustable footpads, tablet holders, reading racks and adjustable stride lengths.
The footprint is one of the big draws of all True machines, as they are much shorter and narrower than most ellipticals, making it a great choice for the home environment.
They also offer something unique called the side step, where you can stand if you just want to work the upper arms for a change of pace.
Lastly, their Cardio 360 technology is a virtual personal trainer that puts you through a full body workout, taking core workouts to a whole new level.
The Cons
Even the great machines have some drawbacks, and we'd be remiss if we didn't mention them even though we are big fans of True ellipticals.
These machines are on the expensive side.  The cheapest model, the M30, is still over $2500, so it's certainly not an entry level model by any stretch.  You can certainly get a very good elliptical for at least $500 less.
The machines also don't currently offer incline or decline which is becoming quite commonplace these days in this price range.  So that's something they need to start thinking about if they want to continue to compete in the home exercise market.
What We Say About True Ellipticals
We here at All Ellipticals really like the TRUE ellipticals.  Although they are on the more expensive side and out of reach for the average consumer, they are a lot of fun to use and the comfort features combined with the Cardio 360 really motivate you to want to go downstairs (or wherever it is that you keep it) and work out on a daily basis.
They don't take up a lot of room and the mid-drive design is quite appealing, and a nice change from the typical rear drive or front drive model.
If you have the money, and are short on space (or even if you are not short on space) by all means go for a True elliptical.  It will last for years and you'll have a lot of fun using it.
As far as which one to choose, it should just come down to budget.  The M30 will run you around $2,300.  The M50 will be around $400 more.  The Performance 300 will add another $500, and the top of the line ES700 will cost you around $4,200 with the Emerge console, and $4,800 with the advanced Transcend touch screen.
So decide how much you have to spend, and then choose one of the 4 True ellipticals based on that amount.  At the end of the day you really can't go wrong with any of them.
Click here to write your own review!
True Model Reviews
TRUE M30 Base Model - This popular machine has won multiple Best Buy awards and features Cardio 360 for a full body workout and Heart Rate Cruise Control to keep you in your ideal range.

TRUE M50 Elliptical - An upgrade to the base M30 model with multi-grip handles and orthopedic cushioned footpads, another Best Buy choice with great features and comforts.
TRUE PS300 Elliptical - A step up from the M50 with extended handrails, unique design and a higher max user weight capacity among other slight upgrades.
TRUE ES700 Elliptical - The high end model in the series featuring power adjustable stride plus two console options to choose from.


---