The Tunturi C20 Elliptical Trainer – Below Average Performer
The Tunturi C20 elliptical is a cheap elliptical import that will set you back about $1200. Actually, the price of the C20 is only $600, but you will need another $600 to buy a new machine after you throw this one in the trash after 6 months.
What You Get
The Tunturi C20 elliptical has a 5.5" LCD monochrome display. It has the standard readouts of time, RPMs, distance, speed, watts, and more. There are four programs including two fitness tests.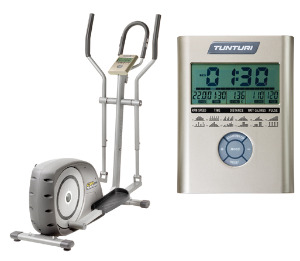 The C20 includes:
16" Stride
Magnet Brake, manual adjustment
4 Programs
Upper Body Workout
Contact heart rate monitors
300-lb Max User Weight
Transport Wheels
Plug-in + Console batteries
Warranty: 3 years parts, 1 yr labor
The Word on the Street
UPDATE:  This model has been discontinued and Tunturi ellipticals are hard to come by these days. If you want to see their latest lineup here is a link to the official site.
For a comparable brand with even more features take a look at NordicTrack ellipticals.
There aren't many elliptical reviews posted online by trainers and customers who have had much experience with Tunturi crosstrainers. When you can find reviews, they are shockingly negative. Yes, there are a few new owners who seem satisfied but they are submitting an opinion after only a week. We'd love to read their revised reviews after a few months once the machine starts breaking down.
While first impressions are good, your opinion of the Tunturi C20 changes once you get on and start pedaling. The elliptical trainer rocks from side to side with each pedal, hardly a stable ride. Then there's the noise: a low crunching sound like dirt rubbing against the flywheel, possibly a bad shaft, clanky bearings and bushings, or even just a loud knocking sound with every rotation of the pedals. The display readout isn't reliable but there's no point in discussing any more negative points here anyway.
The real headache comes when you want to repair the C20 elliptical. Since this is Finnish company, it is a 6-week lag time to get parts from overseas to the US ... that is, if you can get Tunturi to send a replacement part.
Our Thoughts
Tunturi's market is in Europe with very limited distribution in the U.S. and Canada – which might actually be a plus for us on this side of the pond, eh?
This is a poor quality machine and there's no reason to ever buy one over a U.S.-built or a Taiwan-built unit by leading brands such as Proform and NordicTrack. The Tunturi C20 elliptical is a below average performer that should be avoided.
Show me other Tunturi Elliptical Trainers