The Tunturi C30 Elliptical Crosstrainer – Compact Machine for Basic Workouts
The Tunturi C30 elliptical crosstrainer is one of eight different elliptical machines made by Tunturi, a Scandinavian exercise and fitness equipment company. This is a compact, practical machine meant to provide the basics at around $900.
What You Get
This is a pared-down, back to the basics little machine. Of course, the design and layout of everything from the display console to the overall footprint are typical of all that's good about Scandinavian design. The questions come in the quality department. The Tunturi C30 elliptical crosstrainer includes: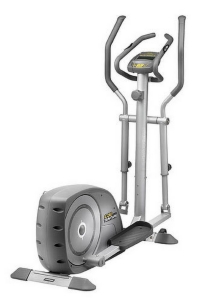 LED display console with oversized readout
Upper body workout
Pulse grip heart monitor
8 resistance levels
Magnetic braking system
3 year warranty
As you can tell, the Tunturi C30 is not a crosstrainer being sold for the number of extras it has. In fact, some of the various read-outs on the display console aren't very helpful. Instead of giving you energy consumption and step rate, you get information like the time, humidity and room temperature. Are these helpful to a workout? Not really. And they don't even mention the stride length anywhere in the literature about the Tunturi C30 elliptical trainer. Our guess is that if it isn't mentioned, it's relatively short.
The Word on the Street
UPDATE:  This model has been discontinued and Tunturi ellipticals are hard to come by these days. If you want to see their latest lineup here is a link to the official site.
For a comparable brand with even more features take a look at NordicTrack ellipticals.
Trainers haven't done enough reviews for us to form an opinion on where they stand one way or the other on this particular model. Its pure speculation, but we feel they probably look at Tunturi elliptical trainers at the higher end of the scale and don't waste their time on this model.
Buyers who have invested in a Tunturi C30 elliptical crosstrainer have remarkably similar tales – at first, they were satisfied. Then the noises started – usually grinding sounds or knocking, with the flywheel and the joints where upper body handlebars meet elliptical horizontals being the two most common culprits.
The final let-down was customer service. Weeks (and in some cases months) passed before replacement parts for the Tunturi C30 were delivered, and even then repairs by trained servicemen didn't alleviate the problems in some cases.
Our Thoughts
Tunturi should be given credit for offering a three year warranty on their machines. It's an unusually good warranty, which is part of the reason so many people purchase their elliptical crosstrainers.
Unfortunately, being covered doesn't help if your Tunturi C30 elliptical will sit idle for weeks waiting on parts when you've only owned it for a few months. It may save you money, but it won't lessen the frustration.
In an effort to streamline the Tunturi C30 elliptical crosstrainer to lower the cost, they stripped away too many things they should have kept. Honestly, at this price point you can get something more reliable regardless of the warranty.
Show me other Tunturi Elliptical Trainers