The Tunturi C60 Elliptical Crosstrainer with Conditioning Test
The Tunturi C60 elliptical crosstrainer hits right in the center of the price range for all ellipticals currently offered by Tunturi at about $1,200. They've added some impressive features to attract buyers who are looking for elliptical machines that are truly personalized, making the Tunturi C60 a definite contender for anyone who likes to "tweak" the programming to suit their own needs.
What You Get
The Tunturi C60 elliptical crosstrainer is built with the usual Scandinavian focus on style and sleek design, but it does weigh in at nearly 160 pounds, so this isn't what you'd consider a portable machine although its footprint is relatively small. Features of the Tunturi C60 include: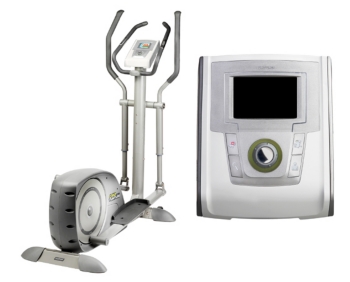 Upper body workout
LCD display console with multicolor display
T-ride simulation programming
Variable exercise modes
17" stride
10 pre-set, scaleable profiles
20 memory spots for custom workouts
Conditioning test
Wireless heart rate monitor
Customization of Heart Rate programs
Adjustable foot plates
Warranty: 3 years
The T-ride simulation programming enables you to adjust your speed based on different rpms and intensity, giving you the genuine feel of walking or running over actual terrain.
The Tunturi C60 elliptical has also improved the LCD display console by moving up to a multicolor display with additional functions and a more instinctive interface. The crosstrainer's wireless heart rate monitor is included with this Tunturi model for increased accuracy.
The Word on the Street
UPDATE:  The C60 model has been discontinued and Tunturi ellipticals are hard to come by these days. If you want to see their latest lineup here is a link to the official site.
For a comparable brand with even more features take a look at NordicTrack ellipticals.
Trainers admit that with the Tunturi C60 the company has produced an elliptical crosstrainer that can compete with some of the more popular models. They approve of the enhanced LCD display console, which offers more usable data.
One trainer observed that you won't get this much feedback from Life Fitness or Precor. The conditioning test also won praise – you can set it for walking or running mode, depending on your level of fitness – for helping relative beginners design a plan that is not only effective but safe.
People who own the Tunturi C60 elliptical crosstrainer love the conditioning test. Many use it not only to get an idea of a good starting point, but to gauge their progress as the months go on. The wireless heart rate monitor is also a big plus, since these are highly accurate and can be expensive as add-ons.
Our Thoughts
We like the ability to program in 20 additional workout profiles. This allows you to develop workouts that can be as varied and as challenging as you want.
Another plus with the Tunturi C60 is the customizable heart rate programs. At this price point and with a 3 year warranty, we can recommend the Tunturi C60 elliptical crosstrainer as a definite contender.
Show me other Tunturi Elliptical Trainers