The Tunturi C85 Elliptical Cross Trainer – a Cool Toy for Serious Workouts
The Tunturi C85 Elliptical Cross Trainer is the top of the line model from Tunturi and it shows. You're getting a commercial grade elliptical machine with some features that don't come on even Precor of Life Fitness machines and they still manage to bring it in at around $2,900 – not cheap, but a respectable price for a high-end machine.
What You Get
You're getting a lot of cool features for under $3,000 that you won't find in most elliptical machines costing thousands more with the Tunturi C85 elliptical cross trainer. The goal with this machine is a commercial-grade workout with some bells and whistles that turn working out into a real pleasure.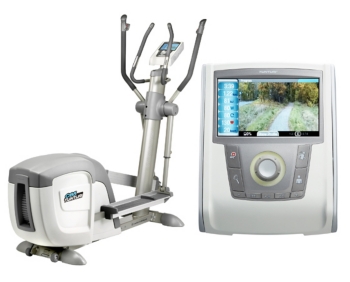 Upper body workout
Multicolor display console
Remote controls in handlebars
32 resistance levels
10 scaleable pre-set profiles
20 memory spots for self-made profiles
Conditioning test
T-ride simulation
T-Road streaming video
MP3 player
Electromagnetic brakes
Wireless heart rate monitor
Customized programs based on your physiology & goals
Warranty: 3 years
You can input your height, weight and age on the touch-pad console and it will design a customized workout program based on your fitness goals, and there's a conditioning test that wasn't available on the C80 (although the C60 had it).
What really sets the Tunturi C85 elliptical cross trainer apart however, are the extras that make exercising fun. The T-road streaming video is on a 7" television-quality screen and features beautiful scenery (with a variety of choices) so that you can get the virtual cross training experience of walking or running outdoors.
The microprocessor of the Tunturi C85 elliptical is extremely accurate, so the scenery slows down or speeds up in time with your pace.
The Word on the Street
UPDATE:  This model has been discontinued and Tunturi ellipticals are hard to come by these days. If you want to see their latest lineup here is a link to the official site.
For a comparable brand with even more features take a look at NordicTrack ellipticals.
Fitness experts aren't ones to jump on the bandwagon just because elliptical cross trainers add "fun" to a good workout, but they agree that when the machine is already pretty good, like the Tunturi C85 elliptical trainer is, having a built-in MP3 player can add great incentive to your workout.
The customizable interface that designs a workout to fit your specifications is also a plus that they like; they point out that it reduces the chance of exercise burn-out for home users who tend to either overdo it (resulting in soreness) or under-do it (getting discouraged when they don't see results.
Those who shell out the cash for the Tunturi C85 elliptical cross trainer admit that the MP3 player and T-Road streaming video were two top reasons, so it's apparent that many purchasers bought because they had trouble staying motivated to work out. The good news? These cool extras of the Tunturi C85 work – they don't get bored as easily and challenge themselves to improve more.

Our Thoughts
You can probably get an elliptical cross trainer in this price range from Life Fitness or Precor that's virtually silent (as opposed to just relatively quiet) or one that's got an even smoother glide. But what it comes down to is what you need to stay motivated. For the money, you won't find a good light commercial grade machine that also includes the built-in MP3 player and streaming video anywhere else.
For the perfect combination of cool toy and serious workout, look no further than the Tunturi C85 elliptical cross trainer.
Show me other Tunturi Elliptical Trainers