Yowza Captiva Elliptical
by Peggy
(Dallas, TX)
Yowza elliptical trainers offer more of an upper body workout as the "handles" go around in an arching motion instead of the normal push/pull motion...Many many programs, intensity levels, fan, audio connection etc and articulating pedals. Very reasonably priced and good options for financing. I have had mine for 3 years after having several other top of the line elliptical trainers and Yowza Fitness really delivers a great product.
Want to start a new discussion? Just click here to visit Elliptical Trainer Consumer Reviews - Rave or Rant!.
Yowza Pompano Elliptical Trainer User Review
by John
(Cleveland, OH)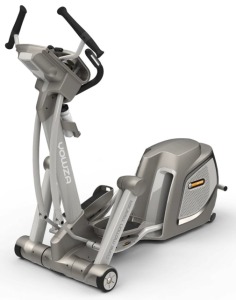 Let me start out by stating that I've been using ellipticals for over 10 years. I'm 5'10" and weigh 180 lbs. I enjoy working out on ellipticals because it saves wear and tear on my body.

The buying process was not easy. It took me a good 3-5 months before I finally came to the conclusion that the Yowza Pompano was what I wanted.

My initial search started with local stores and this website. I went to Dick's and Sears and tried out everything that I could (Sole, Livestrong, NordicTrack). Something was just missing. I eliminated the front drive ellipticals because the rear drive felt more natural to me. This started a new search that included Smooth and Yowza. While both rated very high across the board on all sites, I ultimately went with Yowza.

My main reasons were the Cardio Core Motion, braking system, customer reviews and the fact they were manufactured in Taiwan.

It was difficult to go ahead and purchase something based on reviews and not being able to try it out first. Yowza does offer a 60 day money back guarantee (but who wants to go thru the process of taking something apart and boxing it back up?)

Once I purchased it, I decided to put it together myself. Great decision, it was very easy to assemble (you do need another person to help though). It took about 2 hours or so. It is a very sturdy machine. I went with the Pompano because it weighs about 180 lbs. It says it can support up to 350 lbs.

The workouts so far have been phenominal. I can feel it in more muscles than the ellipticals at the gym. The Cardio Core feature is great. It's a much more natural movement. It is very quiet as well. The only thing I dont' like about the machine is that the clock counts down (I'm just not used to it - there might be an option to change it on one of the personal settings).

I would recommend the Yowza Pompano to anyone looking for an elliptical.
Want to start a new discussion? Just click here to visit Elliptical Trainer Consumer Reviews - Rave or Rant!.