AFG Elliptical Trainers – Heavy Flywheels Give Smoothest Ride

AFG Elliptical Reviews
AFG elliptical trainers
are a new specialty line up of fitness machines from Chinese owned Johnson Health Tech, a company which may not sound familiar but it ranks among the top five of the largest exercise equipment manufacturers in the world.
Advanced Fitness Group, which is a spin-off of another sub-company, Horizon Fitness, also makes treadmills, exercise bikes, and strength trainers. Headquartered in Cottage Grove, Wisconsin, AFG designs and builds a very limited line of less than half a dozen elliptical trainers ranging in price from $899 to $1799.
Not Your Run-of-the-Mill Designs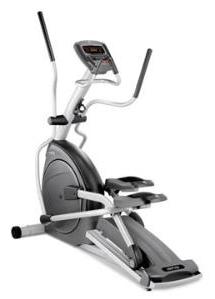 AFG does a lot of things right in terms of advanced programming and performance tracking technology, but they also believe in including the heaviest flywheel they can - yet still control the price. AFG's front-drive elliptical trainers are mounted with 14.5 to 23-pound flywheels (depending on the model) to give you the smoothest elliptical motion you'll find. AFG ellipticals even include some very important comfort features such as pivoting footpads, as well as handlebars for upper arm workout.
Compare AFG Elliptical Trainers and Find Best Prices Here
What's unique about these elliptical trainers is that the pedals are riding just 11 inches off the floor. If you've ever experienced the awkwardness and precarious height of climbing onto a rear flywheel elliptical, you'll appreciate the ease of this cool design feature.
Strong Warranty and Customer Service
One area where AFG elliptical trainers stand out from the competition is in the way the company backs up their machines. The warranties are outstanding — among the strongest in the industry. The company also wants to be known for superior service, and elliptical reviews (though there aren't many available to view) tent to rate AFG's customer service and in-home tech repairs to be satisfactory.
What We Say
AFG elliptical trainers have taken on the toughest price bracket — the over $800 but less than $2000 market. They are good machines but not great considering the competition they have going against the best-selling, mid-range brands. The real problem is that these are re-packaged Horizon ellipticals. They have been re-branded as AFG machines because too many of the $1000+ Horizon machines were getting poor reviews. Time will tell if AFG can carve a market share away from industry leaders like Sole and NordicTrack.
Click here to write your own review!
Model Reviews
AFG 2.0 AE Elliptical - A lot of value for the price.
AFG 3.0 AE Elliptical - A pretty basic model that doesn't offer much of a wow factor.
AFG 3.1 AE Elliptical - The award-winning AFG 3.1 AE features a power incline on a front-drive SixStar Certified™ frame and a beautiful console layout.
AFG 4.0 AE Elliptical - This model is a winner, designed to rival lower-end, health club quality machines.
AFG 4.1 AE Elliptical - The AFG 4.1 AE features multiple workout options with a power incline, large flywheel, and roomy 20-inch stride length.
AFG 18.0 AXT Ascent Trainer - Provides a superior, heart-pumping 'ascent' when doing climbing exercises. Variable stride length and moving workout arms engage all muscle groups.
AFG 18.1 AXT Ascent Trainer – An innovative cross trainer that offers a variable stride length to simulate walking, running, or stadium step climbing with 20 levels of power incline.
---
Return from AFG Elliptical Trainers to the Elliptical Reviews Home Page