Body Solid Elliptical Trainers – A Unique Design

Body Solid Elliptical Reviews
Starting out as a weight machine company, Body Solid elliptical trainers are now a strong portion of this company's market. Although they will never replace the primary goal of Body Solid – providing outstanding weight machines and gym equipment to home users – the ellipticals are gaining some popularity.
Unique Structure for Space Savings
The first thing anyone notices about Body Solid Elliptical trainers is their unusual shape. The front flywheel of every model is completely encased and housed almost directly under the handlebars and console in a rather elongated, on-end housing. At first glance, it's rather odd looking, but it serves a definite purpose; Body Solid elliptical machines take up about half the floor space of other brands. The company is going for the mid-level market and targeting individuals who want their elliptical machine handy but unobtrusive.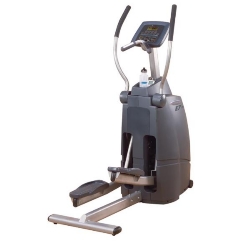 The construction of Body Solid elliptical machines is excellent. Four-sided welds and a carbon steel frame are two features that are typical of all equipment by Body Solid. They back this with a warranty that no other company can match. These elliptical trainers have complete, lifetime coverage on all parts, with one year on labor. A lifetime parts warranty is unheard of, particularly in the $1,000-$2,500 price range.
The Name's the Same...
We aren't sure what the reasoning is, but you may find it hard to find a Body Solid elliptical if you ask for it by name. They are distributed either through Body Solid dealers or through Amazon.com. However, the advertised name for the entire line is "Endurance." So if you really want to look at Body Solid cross trainers, ask about Endurance elliptical trainers; they're the same thing.
Compare Prices of Body Solid / Endurance Elliptical Trainers Here
These machines don't get a lot of press and are barely mentioned in reviews, but they are dependable machines, if not exactly spectacular. For the price, they should have a bit more to offer in terms of features, but the company is an established one and the warranty just can't be beat. If you are looking for a rugged, relatively small and simple machine, Body Solid elliptical trainers might work for you.
Click here to write your own review!
Model Reviews
Endurance E300 - New center-drive model features quality construction, smooth performance, aesthetics, compact size, affordably priced.
Endurance E400 - C-Drive system is superior to many rear-drive and most front-drive systems. Adjustable stride length fits every user.
Endurance E5000 - Solid, quiet, and convenient workout with the professional feel of a commercial machine; center-drive model gets enthusiastic reviews by pros and consumers.
Endurance E4 - A cross between a stair-stepper and an elliptical machine. A decent little trainer for small spaces.
Endurance E5HRC - An elliptical for small spaces covered by an outstanding warranty.
Endurance E7 - A solid machine backed by a solid warranty.
---
Return from Body Solid Elliptical Trainers to the Elliptical Reviews Home Page