The Cybex 750A Arc Trainer – Well-Built, Solid, Silent
Concentrating just on the lower body, the Cybex 750A Arc Trainer is a commercial-quality cardio machine available for home use. It is the only high-end trainer that specifically concentrates on lower body workouts.
What You Get
On the graphic display are readouts for distance, calories, calories/hr, Time, Strides per minute, Watts, METs, Heart Rate, and more. Programming features Manual and Quick Start functions, as well as 13 pre-set programs: 9 Heart Rate Control, 2 Custom, and 2 Advanced Workouts.
The Cybex 750A Arc Trainer console also includes a magazine rack and a utility tray. Other features include compatibility with any wireless heart rate monitor, and a detachable TV monitor (sold separately).
The full list of specs is: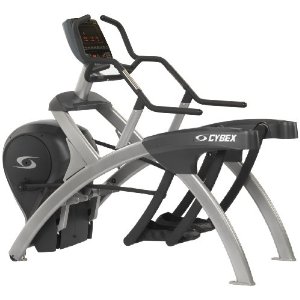 Brake: Brushless eddy current with generator
24" Stride Length
13 Programs
21 Incline Levels
Resistance Range to 900 Watts
Drive type: Double Step-up
Contact HR grips
Polar Wireless HR Monitoring (Chest strap not included)
400 lb. user weight capacity
Weight/Dimensions – 412 lbs / 77" x 28.5" x 62.5" (L x W x H)
Warranty –10 yrs frame; 3 yrs parts; 1 year labor
Compare Prices of Popular Arc Trainers on Sale at Amazon
The Word on the Street
The Cybex 750A Arc Trainer utilizes Reverse Arc motion technology that engages the largest muscles groups in the legs and trunk to effectively burn the most calories in the least amount of time. It provides a smooth patented arc pattern that places the user's toe behind the knee while pedaling, thus reducing stress on the joints allowing for a more comfortable workout experience.
While choosing the incline on the Cybex 750A, the user can select three exercise zones: the Glide or lowest position offers a ski machine pattern, the Stride or medium position closely resembles an elliptical trainer, and the Climb or high position is similar to a stair climber. And within each of these selected variations are ranges of resistance levels to crank up the workout as your fitness level progresses.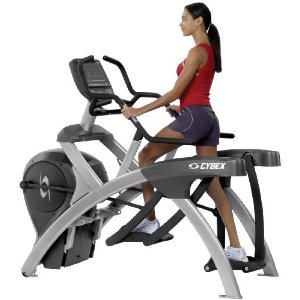 If you are trying to find out which Arc model you've been working out on at the health club or the hotel – it's this one. The Cybex 750A Arc Trainer is exceptional popular at health clubs and in hotels.
Pro trainers and the general public love it for its innovative training movement and low Rating of Perceived Exertion – a measure of how you hard you are actually working compared to how hard you think you are working.
Research shows that the Cybex Arc Trainer burns more calories than any other elliptical or crosstrainer on the market, and doing it in less time, the same intensity level, and with a significantly lower perception of discomfort in the feet and joints.
Our Thoughts
The results in terms of weight loss and overall body conditioning are exceptional, a fact reflected universally in elliptical reviews. The Cybex 750A is a well-built, solid machine that operates with a near silent operation.
The weight is substantial so be sure to get inside delivery when you order this 412-lb crosstrainer. At $4,731, the Arc Trainer isn't cheap, but if you want only the best – and you enjoy elite customer service to go along with it – this one's for you.
Again, we need to mention that the Cybex 750A Arc Trainer does not have upper body workout arms, so if you must have them, get the 750AT model instead.
For most home users, however, this is much more trainer than you will ever need, and for that reason, we recommend the Cybex 360A model at around $3,500 for the best value of the Cybex line.
Show me other Cybex Arc Trainers