The Landice E9 Elliptimill Commercial Model
The commercial model Landice E9 Elliptimill features the patented Rollmentum™ Center-Drive System, which allows the user to stand upright throughout each stride, thus replicating the body's natural motion while walking or running. It improves upon the traditional treadmill workout by providing the impact-free aspect of an elliptical trainer.
What You Get
The Landice E9 Elliptimill features a choice of one of four consoles: Pro Trainer, Pro Sports, Cardio and Executive. Each one includes a metabolic equivalent speed and distance display, which determines your calorie burn by calculating an equivalent speed in miles per hour as if you ran outside with the same exertion.
The specs on the Landice E9 base unit are: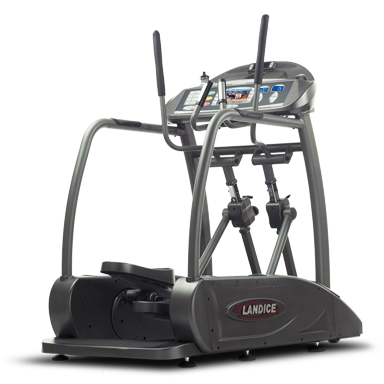 17" - 23" Adjustable stride length
Rollmentum™ Center-Drive System
AccuTrack contact HR sensors & wireless chest strap
Orthopedic gel foot pedal inserts
2" pedal spacing
Step-up height – 6 inches
Unit weight/footprint: 500 lbs/ 36" x 84"
500-lb. user weight capacity
5 years commercial warranty, 1-year labor
The 4 Consoles Options on the Landice E9 Elliptimill:
Landice E9 Pro Trainer (MSRP $3,695) is the basic LED display. In addition to workout stats, it has 5 programs with variable times and 20 effort levels, 2 user-defined programs, and the metabolic equivalent speed and distance.
Landice E9 Pro Sports (MSRP $4,095) has an upgraded LCD display plus a numeric key pad for easy entry of information.

Landice E9 Cardio Control (MSRP $4,395) includes all of the features of the Elliptimill Pro Sports above and calorie burn programs, 2 user-defined programs, 2 heart rate programs, and 3 fitness tests (Balke, Firefighter, and Army).
Landice E9 Executive Trainer (MSRP $5,095) has an 8.5" computer-animated video display, state-of-the-art graphics including an interactive Race Mode, 31 interactive programs including everything that comes with the Cardio Trainer plus 3 more fitness tests (USAF, Navy, and USMC), time, distance, calorie & HR programs, and more.
The Word on the Street
UPDATE:  The Landice E9 is now strictly a commercial model.  You can check it out here.  The only remaining home elliptical is the E7 model, which is basically the same as the E8, which is no longer available.
The Landice E9 Elliptimill provides a natural upright stride thanks to the Rollmentum™ center-drive system, minimal 2" pedal spacing and self-aligning rollers, gel footpads to help relieve foot fatigue, and a manually adjustable stride length between 17 and 23 inches for achieving the most comfortable stride length for your body size. The Elliptimill, which is capable of accommodating a user up to 500 pounds, features an 11" diameter high-inertia flywheel, 11-gauge steel construction, and 1100-watt electric brake.
Elliptical reviews on the E9 Elliptimill tend to focus on the outstanding quality of all Landice products as well as the company's reputation for superior customer service, warranties, research, and engineering. The company has been making treadmills for over 40 years and only recently entered the elliptical market, waiting until they had developed a remarkable innovative design before launching – not just an elliptical trainer – but the next generation Elliptimill. Landice commercial Elliptimills are in service at corporate fitness centers, hotels, health clubs, and rehabilitation centers.
Our Thoughts on the Landice E9
The Landice E9 is super quiet, comfortable, smooth, and offers unbeatable programming and construction – it is a great addition to the cardio circuit room of any commercial environment. Home users will get the Landice E7 Elliptimill instead. It is the exact same machine as this commercial model, identical in every way, right down to the frame, parts, and 3 console options. The only difference is in the warranty. The Landice E9 Elliptimill has a 5-year commercial warranty since it is intended for heavy use in public settings. The lower priced E8 comes with a lifetime warranty on frame and all wearable parts.
Show me other Landice Elliptical Trainers