The Livestrong E1x Elliptical – Too Expensive for Home Use
The Livestrong E1x elliptical by Matrix is a self-powered commercial model available for home use.
What You Get
The console has a 7" blue backlit LCD display that shows time, speed, distance, calories, watts, METs, heart rate, and profile. The workout programs are manual, intervals, goals (time, distance, and calories), and on-the-fly program changes.
The features of the Livestrong E1x include: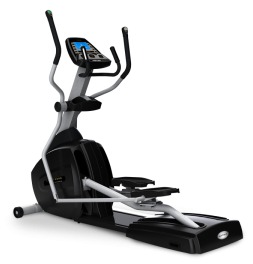 19" Stride Length
6 Programs
20 levels Resistance
3.75" Q-factor Pedal Spacing
Contact & Telemetric HR Sensors
Multi-position dual action handlebars
Auto-positioning pedals
400-lb. User Capacity
Unit Weight/Dimensions - 333 lbs; 83"L x 31"W x 67"H
Limited Warranty: 7 years frame, 5 yrs JID generator & parts, 2 yrs labor
UPDATE:  Johnson HealthTech is no longer selling any ellipticals or treadmills under the Livestrong brand.  Check out Horizon and Vision for comparable machines.

The Word on the Street
The warranty on the Livestrong E1x elliptical is limited to 6 hours of use per day for home or light commercial use. It has a self-powered, cost-efficient generator system (no plug-in required), plus a maintenance-free drive system with a 5-year warranty. This silent resistance system produces a minimum of 18 watts and 30 RPMs.
One of the key features on the Livestrong E1x is that the stride motion moves fluidly at a Constant Rate of Acceleration for optimum user comfort. In addition, to reduce stress on the feet and joints, the foot pedals have honeycombed shock-absorbing pads.
Other features include thumb switch controls, a water bottle holder, fixed 19" stride length, narrow 3.75" Q-factor space between the pedals for a natural stride, handgrip heart rate sensors, chest strap heart rate telemetry, and a 400-pound max user capacity.
Our Thoughts
As a new model released in 2011, there aren't any customer reviews done on the E1x, so we don't know its durability and overall quality.
But the high asking price of $4,795 puts the Livestrong E1x elliptical in the same price class as a Cybex 425A Arc Trainer, which offers three exercise zones (climb-stride-glide), and it costs almost as much as a Matrix Ascent Trainer.
It is simply too much to pay for a light commercial elliptical for home use. We suggest you choose a new home elliptical priced in the $2000 to $3000 range, or consider a refurbished commercial Precor or LifeFitness model for under $3000.
Show me other Livestrong Elliptical Trainers