The Tunturi C45 Elliptical – Poor Quality Trainer
The Tunturi C45 elliptical features all the poor quality components and parts that you expect from the budget line of Tunturi's crosstrainers. What is worse is that this model is priced about $800 higher than it should be.
What You Get
The Tunturi C45 elliptical has a 6.5" 5-color backlit LCD display for readouts including time, distance, RPMs, speed, watts, and heart rate. Among the 31 programs are 10 Presets, 10 User defined, T-Scale, 5 T-Ride, T-Trainer, and Fitness Test.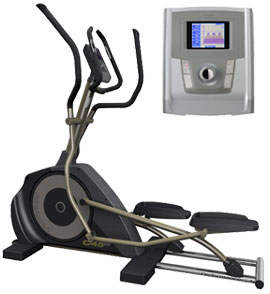 The C45 includes:
19" Stride
Electromagnet Brake
31 Programs
MP3 player
Upper Body Workout
Contact heart rate monitors
300-lb Max User Weight
Transport Wheels
Warranty: 3 years parts, 1 yr labor
The Word on the Street
UPDATE:  This model has been discontinued. If you want to see their latest lineup here is a link to the official site.
For a comparable brand with even more features take a look at NordicTrack ellipticals.
The front-drive Tunturi C45 has a short stride length of 19" and that is equivalent to about a 17" stride on a rear-drive machine. As a result, the elliptical motion will not feel as flat or smooth as you want on a crosstrainer.
The on-board programs include a T-ride simulation program which lets you adjust speed based on different rpms and intensity and that is supposed to give you the feel of running or walking over terrain. But with such a short stride it will feel like you're shuffling instead.
Trainers and equipment pros give the Tunturi C45 low marks in elliptical reviews in the important categories that include reliability, ergonomics, price-to-value, and workmanship. The 300-lb weight limit is over-rated as well, as this wobbly 168-lb crosstrainer should not be ridden by anyone over 180 lbs and that's pushing it.
The Tunturi C45 might last you a year if you are gentle with it, but you will quickly tire of the loud noise at higher speeds as well as the choppy stride motion. You should also be aware that parts are harder to obtain from this Finland based company. Expect a lag time of 6 weeks or more when you need to order replacement parts or get something fixed.
Our Thoughts
The Tunturi C45 is priced at $1,899 which is a shocker. You can get a better elliptical for under $1000 from Proform and NordicTrack.
If you can spend $1,899 on a first-rate elliptical – look at the machines made by Smooth, Sole, NordicTrack, Endurance (a Body Solid company), Life Fitness, and Yowza. The over-priced Tunturi C45 elliptical is one you should pass up.
Show me other Tunturi Elliptical Trainers