Who Makes High Quality Elliptical Machines?
When it comes to high quality elliptical machines, there are several companies that come out on top.  However, that doesn't mean that you necessarily have to spend a fortune to get one.
Let's take a closer look...
The High-End Brands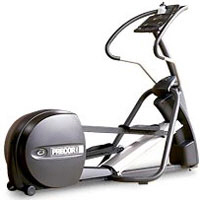 For the very best quality, you first have to look at the companies that make commercial equipment that have forayed into the home market.  These companies have made a name for themselves in the commercial market, with high quality components, advanced technology and ergonomic design.
The first company is Precor.  They are the originals and the innovators in high-end equipment, and have successfully entered the residential market with great elliptical trainers, treadmills and other exercise equipment that is built to last.
The next one is Life Fitness, another leader in the commercial amrket that has brought its equipment into the home.  You get the same high quality and attention to detail in the residential market that you get in the health clubs.
One of the newer players in the home market is Matrix Fitness, which very recently made the jump into the home gym market.  This is a company known for high quality elliptical machines, from the same entity that brought you Horizon and Vision.
The last high end brand that competes directly with these guys is True Fitness, with well-built, compact ellipticals and treadmills that have received numerous awards over the years.
The Mid-Range Brands
If you don't have over $2000 to spend on an elliptical, you can still get high quality if you know where to look.
Vision Fitness has a number of ellipticals under $2000 and they share some components and design features of the higher end Matrix ellipticals.
Sole is another trusted brand that offers well-priced, high quality elliptical machines without the high price tag.
The last brand worth mentioning here is NordicTrack, the most popular elliptical brand on the market with pretty good quality for the price.
Bottom Line on High Quality Ellipticals
The very best quality elliptical machines you will find are typically over $2000, but you can definitely find some solid choices in the $1000 to $2000 range.
The brands above offer a lot of choices, along with many features and capabilities that will help you get into shape.  It's just a matter of choosing the one that most appeals to you.