The Kettler Satura EXT Elliptical Trainer – Compact Footprint
At just 64" long, the Kettler Satura EXT elliptical trainer offers a compact footprint with a buttery-smooth glide in its innovative Extended Motion Technology.
What You Get
The workout data feedback on the twin back-lit LED display screens include speed (mph or kph), distance (miles/km), time, pulse, RPM, heart rate, and energy consumption (calories or kilo Joules). The Kettler Satura EXT elliptical trainer comes with a multi-color display which changes color automatically based on heart rate. The display console tilts to adjust for the height of different users.
The list of features includes: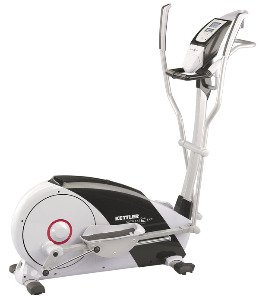 19" Stride extended to 21"
15 levels of magnetic resistance
8 Programs
Contact grip pulse sensors
Upper body Moving Handles
44 lb Flywheel Drive System
Maximum Weight Limit: 330 lbs
Anti-slip Textured footplates
Leveler for Uneven Floors
Transport Wheels
Dimensions/weight — 64"L x 22"W x 62"H" / 175 lbs
Warranty — Lifetime Frame, 3 Years Parts & Electronics, 2 Years Labor
The Word on the Street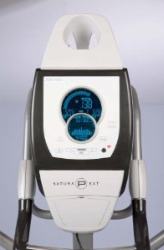 UPDATE: As of 2021 it looks like Kettler is no longer making ellipticals. They used to have at least half a dozen models available for sale on the company website but now there is only one, the RIVO 4, and it's out of stock.
Check out our Best Ellipticals page to find a comparable model in your price range.
---------
Trainers and equipment pros give kudos to the first-rate components on the Kettler Satura EXT elliptical trainer including a Durable Poly V belt drive for a smooth and silent operation, the sealed no-maintenance ball bearings used at all pivot points, and a 44-lb flywheel drive system.
The EMT or Extended Motion Technology™ provides a low impact 19" long stride with integrated gliding footplates extending to a 21" travel distance. This gives the Kettler Satura EXT a longer glide path, rather like cross-country skiing. (The Satura P Elliptical at $1,699 does not have the EMT stride.) It is a fluid motion that lessens strain on the knees and joints as you stride at any of the 15 levels of frictionless motorized magnetic resistance.
The Heart Rate programs of the Kettler Satura EXT automatically control the elliptical trainer's resistance to keep the user within the Target Heart Rate Zone. In addition, the display is color-coordinated to show you immediately when your heart rate is in or outside the zone: blue indicates below the zone, green is within the targeted zone, and red alerts you that your heart rate is exceeding the zone.
Our Thoughts
The Kettler Satura EXT elliptical trainer is a fine machine and it would have ranked among our top ten $2000 ellipticals a few years ago. Now, however, it seems outdated compared to the cool features available on the new crosstrainers at $1700 to $2000.
At this highly competitive price point, you can find ellipticals that have even smaller footprints, better warranties, and lots of extras. You want compact? Check out the C-Drives such as the 50" long Endurance E300 by Body Solid or the 41" Lifecore LC-CD400.
If size doesn't matter, and you are in the market for a smooth rear-drive machine with rollerless action, then the Yowza Captiva or the Smooth Agile DMT offer variable motion technology, fans, iPod plug-ins, and more.
Show me other Kettler Elliptical Trainers