Precor Offers Some of the Best High-End Ellipticals
There are several excellent elliptical trainers out there, but the best high-end elliptical machine in the upper price range may be the Precor EFX elliptical trainer. Nobody manufactures home exercise equipment to higher standards than Precor. With any one of their machines you're getting quality, durability and reliability.
What You Get
Before looking at the features, keep in mind that some things can't be listed or quantified – like the pure silkiness of the ride when you're on a Precor. Or the fact that you'll probably never have to call customer service. But enough about that, let's look at the features of the Precor EFX series, one of the best elliptical machine models around: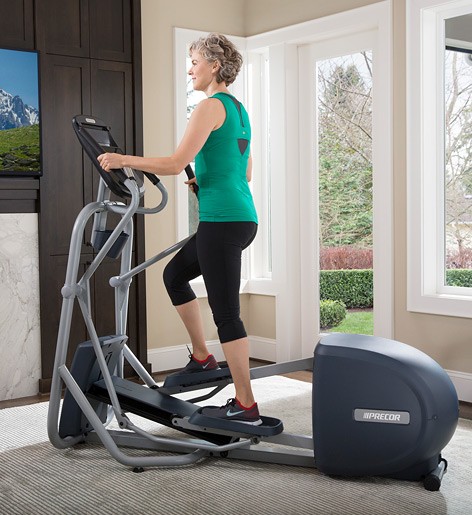 Upper/Lower body workout
Wide array of pre-set programs
Lot of resistance levels
LED display with color graphics
Pulse heart rate monitor
Child safety features
Virtually unlimited weight capacity
21"-23" variable stride
2 User ID's for programming personal workouts
Adjustable 15-30 degree incline
Reverse motion
Warranty – 10 year parts, 1 year labor
Club quality design
Check out the latest Precor EFX ellipticals on sale today!
The Word on the Street
While trainers try to remain relatively calm when comparing models and choosing their pick for the best elliptical machine, we've come across a few that just couldn't contain their enthusiasm. One professional said that the Precor EFX 445 elliptical trainer was what he dreamed about getting for Christmas. You can't get a better endorsement than that! What do they love so much? Club quality, pure and simple. These machines are the highest quality you can find, from component parts to warranty.
Consumers who have plunked down the high price tag for a Precor elliptical trainer agree that the EFX series is the best machine they tried, and time doesn't alter their opinion. The console display scores points for multiple features and graphics that make it easy and fun to use. Also getting high praise are the effortless motion and whisper-quiet motor.
Our Thoughts on the Precor Brand
If you're going to make a significant purchase when you're buying exercise equipment, the best elliptical trainer to look at may be the Precor EFX Series. These are beautifully engineered, sleekly designed machines that will last for years.
There's virtually no maintenance and you can rest assured that they will take any kind of a stress you're capable of putting them through. Precor quality is legendary for a good reason – they make the best elliptical machine for home use, and the Precor EFX series, with its upper body workout and many programs is the best of the best.