Elliptical Fitness Machines – Is Portability in the Proform 850 Worth It?
Elliptical fitness machines are naturally bulky, heavy things because of the amount of metal and moving parts required to give you a challenging cardio workout. The Proform 850 elliptical trainer tries to get around this problem; it's a compact trainer that is hinged and can fold up for storage when not in use.
What You Get
The Proform 850 is one of the few elliptical fitness machines that truly live up to the term "mobile." Its hinged design and light weight make it easy to stow away when you want it out of sight. Even when you have it set up, the elliptical trainer's relatively small footprint means it doesn't take up much space. You still get a decent range of workouts, but you are limited in other areas. The features of the Proform 850 include:
Upper body workout
8 pre-set programs
Pulse rate heart monitor
LCD display console
Silent magnetic resistance
Built-in fan
Hinged, fold-up frame
90 day warranty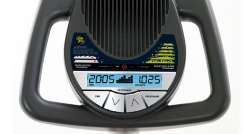 Fitness experts aren't sold on this model. They cite the light weight and short stride. Both are features that make it portable, but don't contribute to a good workout. One professional declared the Proform 850 one of the noisiest elliptical fitness machines he'd ever used. The few positive comments made were that this really was an elliptical trainer that took up little space and that the built-in fan was a nice feature. Otherwise, these guys weren't impressed.

Compare ProForm Ellipticals at WorkoutWarehouse
Consumers were disappointed with the noise level of the Proform 850. It led to many buyers complaining to the company's customer service department, another area where they were disappointed.
Our Thoughts
It's an obvious give-and-take; to gain portability you have to give something up. In the case of elliptical fitness machines it's usually stability and sturdy construction, the Proform 850 is no exception. The end result is a machine lacking in quality. When we couldn't find information on weight limits or stride length even on their own website, we became a bit nervous. What company neglects to mention this type of basic information? This thing is noisy, tends to shimmy when you reach high speeds and doesn't have a lot of options. Add to that the high rate of problems with parts, and you have a disappointing elliptical trainer that we don't recommend spending your money on. There are better elliptical fitness machines than this one for the price.